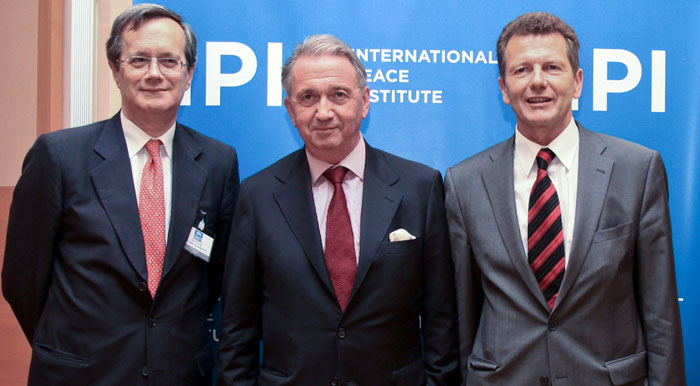 The 41st session of the IPI Vienna Seminar has just been held at the Austrian Diplomatic Academy, focusing on the subject, Coping with Crisis in Europe and Central Asia: Adapting to New Threats and Challenges.
This annual seminar–as old as IPI itself–was organized for the first time by IPI's new office in Vienna, which opened in the autumn of 2010, in cooperation with the Austrian Federal Ministry of Defence and Sports and the Austrian Federal Ministry for European and International Affairs.
The May 23-25th seminar looked at changes in the European security landscape and the profound implications of these changes for sovereignty and multilateralism, with the scope of Europe widening from a Euro-Atlantic focus to one that encompasses Central and South-Eastern Europe, the Caucasus and Central Asia. As a result, Europe's security is increasingly affected by developments in adjacent areas, like Afghanistan, Iraq, North Africa and the Middle East.
The types of issues that are defining the security agenda are also changing. With a few notable exceptions, conflicts between states are now less common than crises within them. The concept of security is expanding to include human security, energy security, and the challenge of integrating diversity within multicultural societies. And all states are affected by transnational threats, like terrorism, organized crime, and climate change.
The panels and speeches, conducted under the Chatham House rule of non-attribution, concentrated on three levels of threats and challenges. They looked at intrastate challenges, including diversity in multicultural societies and accommodating the principle of self-determination and the territorial integrity of states; transnational challenges, specifically energy security and transnational organized crime, and the effectiveness of the multilateral and regional capacities that exist to cope with these threats and challenges.
The one-and-a-half day meeting was well-attended by a mix of diplomats, politicians, students, academics, journalists and representatives from NGOs and think tanks. Debate was lively, particularly on the issue of "frozen conflicts," and the need for reform among European security organizations.
"This year's Vienna Seminar shows that we have taken our presence in Austria to a new level," said IPI President Terje Rød-Larsen. Reflecting on the growing threat posed by mega-trends, he warned that "Eurasia, and the rest of the world, will, increasingly, be forced to cope with crisis on a scale and at a speed that we have not faced in the past."

 Download meeting note
Related Links:
Waldner: "Organized Crime Knows No Borders"