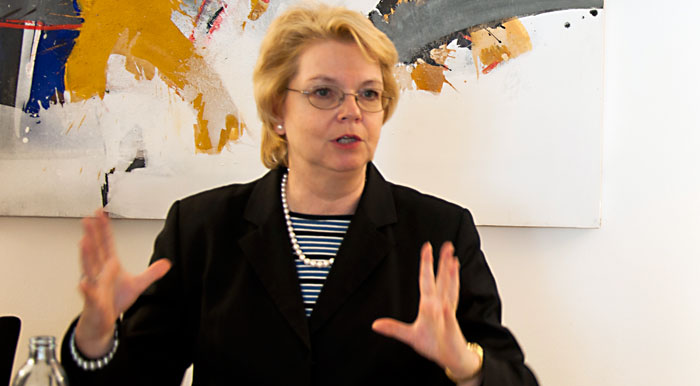 A meeting on May 19th at IPI's Vienna office looked at challenges posed by the increasing frequency and severity of natural disasters, and what international emergency response mechanisms are in place, particularly in Europe.
Since its founding in 1975, the Organization for Security and Cooperation in Europe (OSCE, originally called the CSCE) has recognized the threat posed by disasters, but has not given it much attention, though the issue has been referred to in a number of OSCE documents.

For example, at the Istanbul Summit of 1999–which took place just after a major earthquake in Turkey–OSCE heads of state and government said there was a need to strengthen the international community's ability to respond to such events by improving the coordination of the efforts of participating states, international organizations and NGOs. The need for improving cooperation on collective responses to natural and man-made disasters was also raised as an issue in preparing for the Astana Summit of December 2010. But the OSCE's capacities in this area are limited.

At the IPI workshop, titled "Natural Disaster Relief: What Role for the OSCE," participants discussed international institutions and guidelines, such as the UN Office for the Coordination of Humanitarian Affairs and its Guidelines on the Use of Foreign Military and Civil-Defence Assets in Disaster Relief –"Oslo Guidelines."

Also discussed was the work of the Russian Ministry of Emergency Situations–particularly its experiences in fighting massive forest fires in 2010 as an example of a national disaster response capacity within a major OSCE country–and the work of the Euro-Atlantic Disaster Response Coordinator Centre. Participants outlined current OSCE activities related to improving national and regional preparedness and response to natural disasters.

Most of the views expressed in the discussion underscored the importance of being prepared and having an effective response. Disaster relief as a confidence-building measure was also stressed. Most participants were cautious on expanding the role of the OSCE in this field.

The meeting was held under the Chatham House rule of non-attribution.



 Read the meeting note