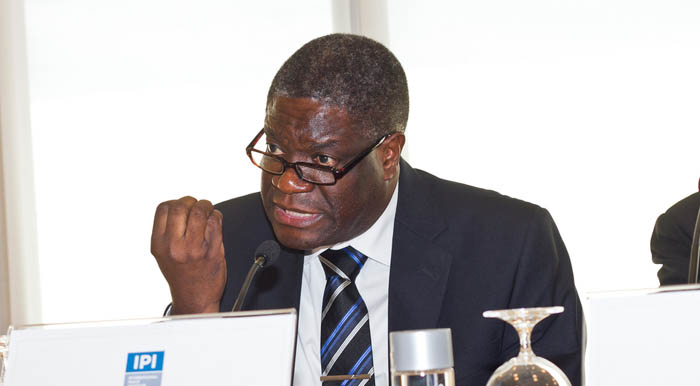 Addressing a large gathering at IPI, Dr. Denis Mukwege, the renowned founder of a hospital in the Democratic Republic of the Congo that treats victims of sexual violence, spoke feelingly of the thousands of young women who, having been raped, are condemned to lives of being shunned by their families and seeing their rapists move about freely in society, unrepentant and unpunished.
Noting that they often retreat into silence, he said, "We need to remember that since the victim doesn't have the capacity to be able to explain that she needs to feel supported, we can't understand these silences, so we don't treat them and there's a vicious cycle of rape, silence and impunity."
Dr. Mukwege, Director of the Panzi Hospital in Bukavu, was joined at the June 29th event by Margot Wallström, Special Representative of the Secretary-General on Sexual Violence in Conflict, who said that while new laws and monitoring mechanisms had been put into place to curb such violence and address impunity, "it is only as good as its implementation, and we have a long way to go."
"Even in the DRC, they have ambitious legislation, they have a tolérance zéro, they have a national plan, they have anti-rape legislation and all of that. But then the capacity, the training, the monitors, everything is missing in the capacity to follow up. And until recently they haven't had any prisons even to put the perpetrators in so there are a lot of gaps or holes in this net if we want to do something about impunity."
The event was co-sponsored by IPI, the Belgian Mission to the United Nations, and the King Baudouin Foundation, which recently gave its annual International Development Prize to Dr. Mukwege.
It was moderated by Warren Hoge, IPI Vice President for External Relations.

 Read transcript
Listen to Global Observatory interview with Margot Wallström

>>