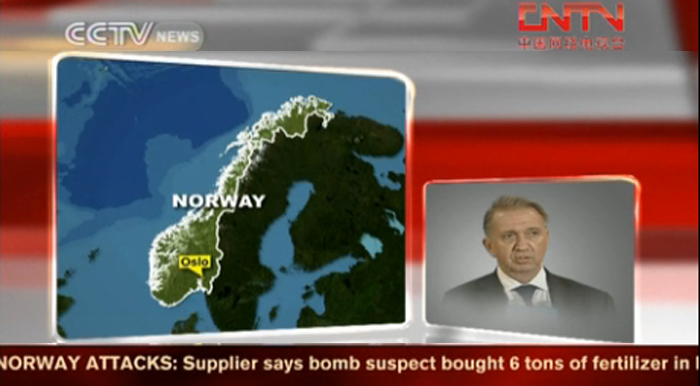 "This is a frontal attack of the national ethos of Norway…which is built on a solid foundation of tolerance politically and religiously," Terje Rød-Larsen, the President of IPI, told China's state broadcaster, China Central Television, in commenting on the July 22 terror attacks in Norway.
"So this is a frontal attack on everything the Norwegian ethos is standing for, and this is why it's so shocking to all Norwegians," Mr. Rød-Larsen said.
He was speaking from Oslo by phone with James Chau, CCTV news anchor in Beijing. Mr. Chau is a UNAIDS Goodwill Ambassador and moderated an IPI event in June on "Prevention and Protection Save Lives: Girls, Women and HIV" that featured Norway's Crown Princess Mette-Marit.
Mr. Rød-Larsen, IPI President since 2005, was Deputy Prime Minister of Norway in 1996.
At the time of the interview, it was believed that 93 people had died, but the toll was revised downward by officials the next day to 77.

Read transcript

View interview on CCTV (video link)