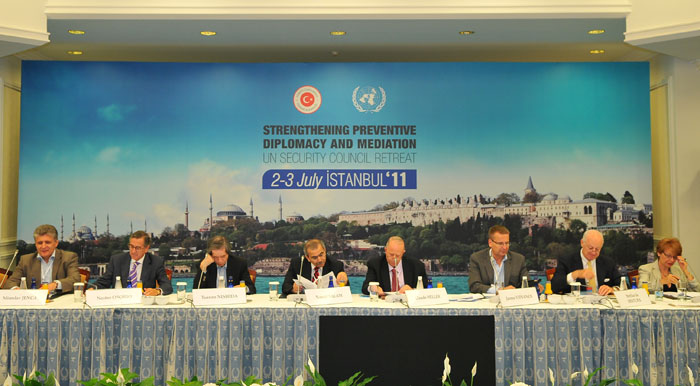 For the second consecutive year, IPI collaborated with the Government of the Republic of Turkey in holding an informal retreat of the United Nations Security Council in Istanbul on July 2-3, 2011.
The retreat gathered the members of the Security Council as well as several non-Council members at ambassadorial level, senior staff of the UN Secretariat, and independent experts with the aim of discussing ways to strengthen preventive diplomacy and mediation.
The discussions at the retreat drew on the lessons learned from recent crises and conflicts, particularly in Sudan, Kenya, Côte d'Ivoire, Libya, and Syria. In an informal and off-the-record setting, the conversations sought to build on and enrich the ongoing debate on realizing the full potential of preventive diplomacy and mediation as cost-effective options for dealing with crises.
Different sessions were dedicated to taking stock of the Security Council's experience with preventive diplomacy and mediation, tools and capacities available for early consensual engagement across the United Nations system, the role of non-United Nations actors, and building preventive capacities.
A meeting note on the retreat is forthcoming from IPI.
Click here to read the IPI "Issue Brief:  Preventive Diplomacy and Mediation," based on a concept note prepared by Arthur Boutellis, Edward C. Luck, and Christoph Mikulaschek for the Istanbul retreat.