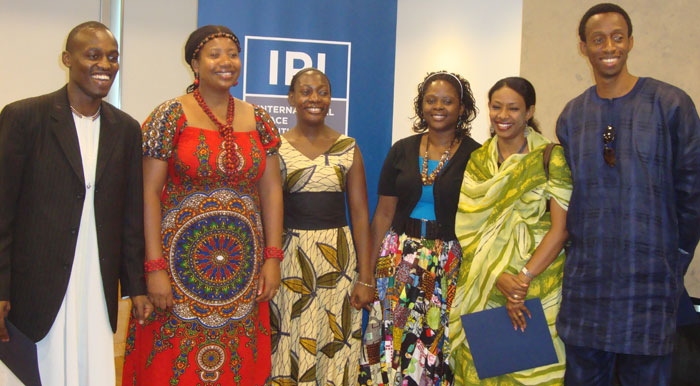 The fourth annual African Junior Professionals Fellowship Program at IPI brought six African scholars to New York for a month-long (July 1-28) familiarization with the United Nations and the related think tank community.
Under the leadership of Professor Funmi Olonisakin at King's College London, the African Junior Professionals Program, begun in 2008, has the objective of training a new generation of African men and women to work in Africa's leading security and economic organizations and universities for the continent's social and economic improvement.
In conjunction with the Conflict, Security and Development Group, King's College London, IPI has developed this annual training program to strengthen the capacity of young African professionals in addressing the continent's major development, political and security challenges.
The six scholars–from Sudan, Zimbabwe, Kenya, Uganda and Nigeria–brought rich experience as lawyers, artists, and academics to the program. After a year's study at King's College and/or the new African Leadership Center in Nairobi, the scholars will hold internships either at a United Nations regional office, a subregional organization such as ECOWAS or SADC, or in an African university. 
As part of the IPI program, the scholars were briefed by representatives of the United Nations departments DPA, DPKO, UNDP and UN Women, related think tanks including the Conflict Prevention and Peace Forum (CPPF), the International Center for Transitional Justice (ICTJ), Security Council Report (SCR), the Open Society Institute (OSI) and the Council on Foreign Relations (CFR).
Throughout the month, they were mentored by the IPI staff. 
IPI intends to develop an online network among the twenty scholars who have participated in the program to date. This will promote an exchange of ideas on addressing the continent's major challenges and contribute to focusing IPI's Africa Program and facilitating our interaction with the next generation of African leaders.