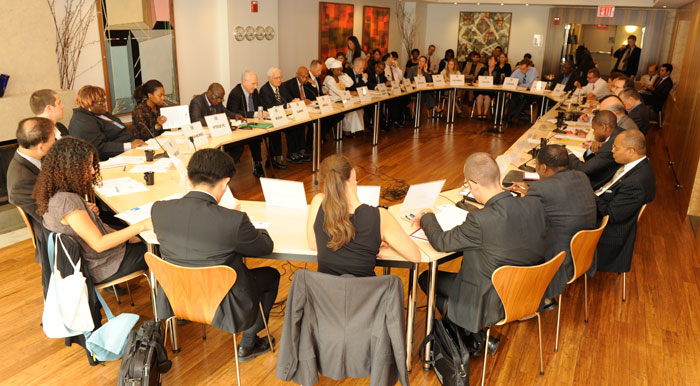 There is no single recipe for providing electoral assistance—this was a critical takeaway from a September 26th roundtable discussion at IPI on "Elections and Stability in West Africa: The Way Forward."
Keeping this in mind, the workshop aimed to find best practices that could be applied across many cases, drawing on the recommendations to facilitate peaceful elections from the Praia Declaration, an outcome document from a regional conference in Praia, Cape Verde in May 2011 on Elections and Stability in West Africa, convened by the United Nations Office for West Africa (UNOWA).

The roundtable brought together approximately fifty participants, including UN staff, Permanent Representatives to the UN, as well as academics and civil society organizations working on elections.

The views shared by the speakers reflected a range of backgrounds, including Said Djinnit, the Special Representative of the Secretary-General for West Africa and Head of UNOWA; Dr. Abdul Fatau Musah, Director for External Affairs of the Economic Community of West African States (ECOWAS); Dr. Christina Thorpe, the chairperson of the National Electoral Commission of Sierra Leone; Professor Timothy Sisk from the University of Denver; and Mariama Bayard-Gamatie, former presidential candidate in Niger.

The participants spoke candidly about ways to improve international electoral assistance as a key to facilitating democracy, stability, and development, and as a tool of preventing violence. During the discussion, a number of themes emerged, including the need for national ownership of the electoral process; transparency and national consensus; strong and credible opposition parties; and the importance of independent and effective electoral management bodies. Strengthening human rights, security institutions, the independent media, and the role of women in the political process were identified as key components to successful elections.

Participants also emphasized the need for greater consideration of national contexts in electoral assistance efforts, and explored the possibility of linking electoral assistance to wider development and governance work. In addition, it was noted that the electoral assistance regime should have greater accountability and increased coordination to avoid duplication of efforts and wasted resources.

Participants analyzed the root causes of election-related violence in West Africa by looking at how elections can serve as the impetus for violence based on underlying tensions and can create new grievances if elections mobilize group identities that were not previously salient. The effects of politicians employing divisive tactics and patronage politics, increasing urbanization and demographic changes, and the acceptance and perceived credibility of election results were among the key factors thought to contribute to election violence. These risk factors highlight the need for innovative monitoring tools to prevent conflict during elections.

Both the Praia Declaration and the ECOWAS Conflict Prevention Framework and Protocol on Democracy and Good Governance were recognized as key normative frameworks to guide electoral assistance in the region. However, despite regional initiatives taken toward their implementation, participants recognized that there is still much to do on the ground to make these norms a reality.

The discussion was held under the Chatham House rule of non-attribution.