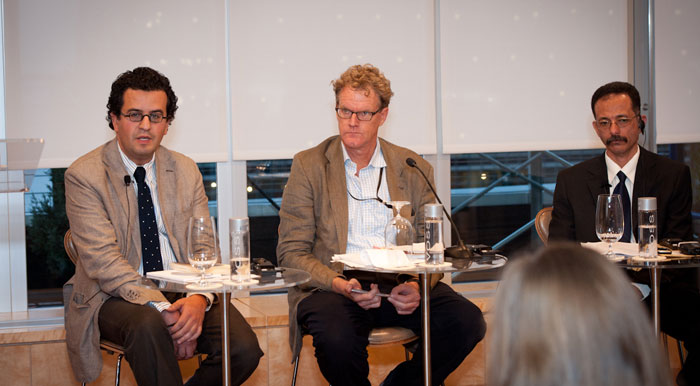 Two Arab authors, Hisham Matar and Ali Al-Muqri, spoke at IPI on September 14th and 15th to give their artist's perspective on the recent uprisings in their home countries.
"The way I see us is that we are sort of perched on the trees, and we watch history move, and we reflect. We hold up mirrors to our societies, which is why often we say things and show things that people don't necessarily want to see," said Mr. Matar, an acclaimed Libyan author based in London whose most recent book Anatomy of a Disappearance incorporates autobiographical events such as the disappearance of his father, a Libyan dissident.
However, Mr. Matar said that he is sensitive to over-romanticizing the role of the writer. "I think we are perhaps less useful than a baker in a revolution," he said.
Mr. Al-Muqri, a poet and novelist, travelled from his home country of Yemen for the event. "Literature is how we express ideology, the changes, the revolution," he said. "I believe that it is not literature if it doesn't do that."
The authors appeared as part of IPI's Arab Intellectual Series launch events which included an evening panel discussion on September 14th moderated by Neil MacFarquhar, UN Bureau Chief, The New York Times, and a lunchtime panel discussion on September 15th moderated by Ambassador Abdullah M. Alsaidi, Senior Fellow, IPI.
IPI President Terje Rød-Larsen gave opening remarks at both events.
Watch video of panel discussion: