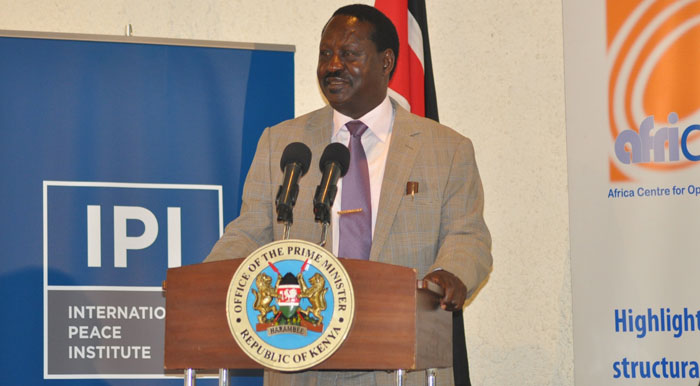 Transnational criminal networks are corrupting and undermining state institutions in some countries to such an extent that they pose a threat to the state itself, according to two new reports from IPI made public on October 4th in Nairobi at a policy forum addressed by Kenyan Prime Minister Raila A. Odinga.

The reports, entitled "Termites at Work: Transnational Organized Crime and State Erosion in Kenya," were launched at the event, co-hosted by the International Peace Institute and the Nairobi-based Africa Centre for Open Governance (AfriCOG).
Download the reports:


Policy Paper


Comprehensive Research Findings
Speaking at the policy forum, the reports' author, Peter Gastrow, IPI's Director of Programs, said, "The threat posed by transnational organized crime is not confined to the harmful effects of the international narcotics trade or human trafficking. For many developing countries and fragile states, powerful transnational criminal networks constitute a direct threat to the state itself–not through open confrontation–but by penetrating state institutions through bribery and corruption and by subverting and undermining them from within. Governments that lack the capacity to counter such penetration, or that acquiesce in it, face the threat of state institutions becoming dysfunctional and criminalized, and of the very foundations of the state being undermined."
Mr. Odinga commented, "It is my hope that the report being launched today will direct us towards better ways of equipping our people and our institutions to tackle these problems. "History shows us that the price paid by nations which have flirted with crime is a high one. They have become captive to criminal elements, and have suffered perpetual instability. Ladies and gentlemen, that is a road we do not wish to travel." (read the Prime Minister's full remarks)
Peter Gastrow and Prime Minister Odinga at launch (1:55):
The IPI study, funded by the German government, examined six categories of transnational organized crime in Kenya.
Peter Gastrow told participants that the results pointed to significant increases in criminal activity with pervasive impacts on government institutions. Even though Kenya was the economic hub of East Africa, with an active civil society, a vibrant media, and significant potential for growth and development, its foundations were under attack. Endemic corruption and powerful criminal networks were "white-anting" state institutions, hollowing them out from the inside. As a result, development was being hampered, governance undermined, public trust in institutions destroyed, and international confidence in Kenya's future constantly tested.
Also speaking was Dr. George Kegoro, Executive Director of the International Commission of Jurists in Kenya and Ms. Gladwell Otieno, Director of AfriCOG.
The function was attended by about sixty participants representing the media, government, NGOs, international organizations, academia, and Nairobi Embassies.
Both IPI publications conclude with concrete recommendations for policy and action steps at national, regional, and international levels.
Related News Coverage:
Land and the criminalised state [The Star]
PM Raila asked to name and shame drug barons [The Star]
Dadaab refugee camp poses a huge threat to Kenya's national security [The Nation]
Institute proposes special police unit to monitor crimes [Business Daily Africa]
Check criminal gangs now infesting Kenya [Daily Nation]

Kenya: Nation sliding to become gang controlled state [AllAfrica.com]
50 underage girls 'sold weekly' as sex in Kenya [The Standard]
Drug Traffickers Use Nairobi As Transit Point [Coastweek]
Crime money influencing Kenyan society, claims Raila [The Star]
Alarming statistics on human trafficking in Kenya [Safari Africa Radio]
Study Exposes Drug Network in Nation [menafn.com]
Why lapses in Kenya's security system beg answers [The Standard]
Report says Kenya in the grip of powerful criminal networks [Africa Review]
East Africa: Kenya Region's top Fake Goods Market – Report [The Nigerian Daily]
Powerful criminal networks hold Kenya hostage [Sunday Nation]
Kibaki gambles on regional war with Al Shabaab [Africa Confidential]