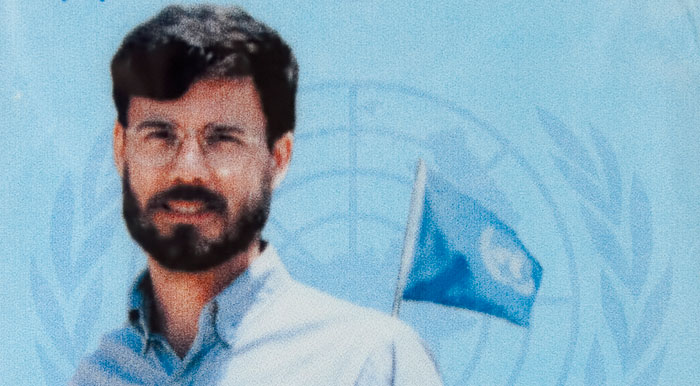 The International Peace Institute has established a new fellowship honoring Richard M. Hooper, the UN diplomat and Middle East expert who was killed at age 40 on August 19, 2003 in the terrorist bombing of United Nations headquarters in Baghdad.

"Rick was one of the most—perhaps even the most—talented and creative individuals I have known," said IPI President Terje Rød-Larsen at the October 19th event announcing the fellowship. "He was a great expert on Middle East issues and a wonderful person to work with. He is an inspiring role model, and I hope that this fellowship will contribute to continuing his legacy."
Mr. Hooper worked in Gaza in 1995-1996 and again in 1999-2001 as the Special Assistant to Terje Rød-Larsen, then serving as the United Nations Special Coordinator for the Middle East Peace Process.
A graduate of the University of California, Santa Cruz, Mr. Hooper spent a year as an undergraduate student at Birzeit University in the West Bank. He went on to study Arabic on a Fulbright Fellowship at the University of Damascus and at the American University of Cairo. He received an M.A. in Arab Studies from Georgetown University.
Mr. Hooper began his career at the United Nations in 1990 as a refugee affairs officer with the United Nations Relief and Works Agency (UNRWA) in Gaza and served as a research officer and as Assistant Chief of Staff to UNRWA's Commissioner-General at its Vienna headquarters. He became the Special Assistant to Sir Kieran Prendergast, U.N Under-Secretary-General for Political Affairs in 2001, and was on a short U.N. assignment in Iraq at the time of the Canal Hotel bombing.
In 1998-2000, Mr. Hooper worked as Senior Adviser at the Norwegian Institute for Applied Social Sciences (Fafo) where he helped establish its Program for International Cooperation and Conflict Resolution. He was also the Founding Director of the Conflict Prevention and Peace Forum (CPPF) at the Social Science Research Council in New York.
The first recipient of this fellowship, which is funded by an anonymous donor, is Walter Kemp, Director for Europe and Central Asia at IPI's Vienna headquarters.
Prior to joining IPI in 2010, Dr. Kemp served for four years as the spokesman and speechwriter in the United Nations Office on Drugs and Crime (UNODC). From 1996 to 2006, he worked for the Organization for Security and Co-operation in Europe (OSCE), where he served as the Senior Adviser to the OSCE High Commissioner on National Minorities, among other positions. Dr. Kemp is the author of several books, including Nationalism and Communism in Eastern Europe and the Soviet Union (1999) and Quiet Diplomacy in Action (2001).