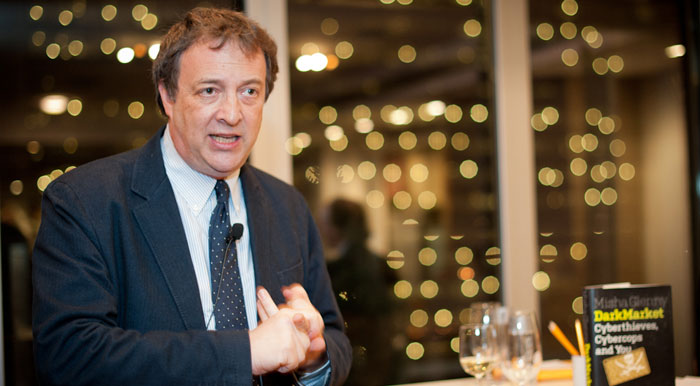 Addressing a Beyond the Headlines event at IPI on January 10th, Misha Glenny, author of DarkMarket: Cyberthieves, Cybercops and You, said that cybercrime had now become a widespread concern affecting everyone, and he warned the overflow audience of the dangers of ignoring it.
"This is a problem people can no longer—the problem of cyber security— shove under the carpet," he said. "It is no longer something that can be the domain solely of computer, technology, and security specialists and securocrats. We all have to start learning about this problem."
In today's world, he said, "We have become hugely dependent on networked computer systems. We don't like to know about the technology, because it's simply too confusing and too boring." He said that this apathy ends up allowing individual users to be "the greatest vulnerability in the computer network system."
Internationally, Mr. Glenny said, "We are seeing a proliferation of very dangerous viruses, which are sometimes being created by non-state actors, sometimes being created by states, and other types of cyber weapons." He said that the Stuxnet computer virus, which had successfully targeted Iranian nuclear facilities, was a turning point in states ratcheting up their cyber warfare efforts. "What's really important about Stuxnet is not whether the US or Israel did it, or a combination of the two," Mr. Glenny said. "What's important is that somebody has put all the resources into developing Stuxnet and then says to the world, 'Not only have we developed this, but we can deploy it.' And that virus risked a serious accident at a nuclear plant."
"The point is, that once that had happened, it was gloves off. Everyone around the world said 'Whoa, people are deploying; that means we have to start getting our act together.'"
Mr. Glenny argued for more international cooperation and consensus on tackling the issue, saying, "All this has happened outside of any international framework or control because nobody is prepared to concede their relative advantage—they're all very different, the advantages they have, state to state." He said the biggest developers of cyber warfare are China, Russia, and the USA.
"Since Stuxnet, without any form of international treaty, people are sitting down and developing these weapons hand-over-fist now," he declared. "There is an arms race going on which is not being controlled, and we need to push this up the agenda. These viruses can do immense damages to our lives."
By way of illustration, he asked, "What happens when everything we rely on…what happens when they stop working, the traffic lights go out, when you can't get cash out of ATM machines? Computers have enabled us to work logistics so tightly in the commercial sector that one thing goes wrong, and basically, goods don't appear in the shop."
Mr. Glenny also spoke about what motivates individual hackers, and argued for a more nuanced approach in dealing with cyber crime. He said that, "We have started to impose Draconian punishments on people who hack" without differentiation of their goals, whether they are for criminal or personal gain, political purposes, or just for fun. "There is no way of rehabilitating hackers who have been imprisoned for hacking," he said, which makes them vulnerable to organized crime networks.
Many hackers, he argued, suffer social problems but are brilliant at using modern technology. "It's almost impossible to imagine these people being involved in any form of conventional crime, i.e., the Internet has created a certain body of people who are engaged in criminal activity who are only criminals because of the existence of the Internet," he said.
On civil liberties and ensuring cyber security, he warned that, "We have to watch out very carefully that we do not become too watched ourselves."
Moderating the discussion was Warren Hoge, IPI's Senior Adviser for External Relations.
Interview with Misha Glenny, Cybercrime Expert >>
Watch video of the event:

Related News Coverage:
Cyber Threats — and Remedies — Get Overdue Airing [Huffington Post]