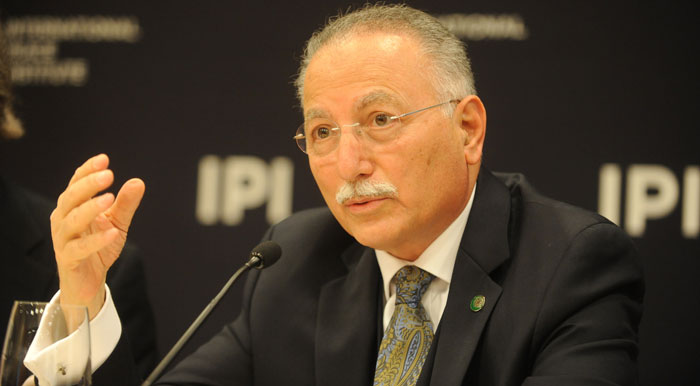 "When you look to what happened…you will see the OIC was in the forefront," Ekmeleddin İhsanoğlu, Secretary-General of the Organization of Islamic Cooperation (OIC), told an IPI lunchtime forum on March 14, 2012, discussing the response to the Arab uprisings that began last year.When fighting broke out in Libya last year, he recalled saying "The killing of people because they are asking for their freedom, for their democratic rights, should be addressed through dialogue. And this infringement, violation of human rights, killing people, is not only against universal values, it is particularly against Islamic values."
Dr. İhsanoğlu, elected head of the OIC in 2005, spoke about the transformations happening in the Muslim world and the role his organization has to play. He explained how he has initiated reforms, including a new name and updating of the OIC's charter. The new charter, he said, "speaks of universal values. It is in parallel position with the United Nations Charter, of other international organizations. It speaks about commonly accepted values on a global level." These values include good governance, human rights, democracy, and women's rights, he said.
"In human rights field, we have done very important, revolutionary… we took an important step by establishing an independent, permanent human rights commission," he said.
"What is the role of OIC?" he asked. "When we incorporated in the ten-year program of action in 2005, these universal values in the ten-year program of action, and then reiterated it in the charter, which is the basic document of OIC, it became the essence on which the Secretary-General could build his opinion and advocate these values, which was not possible beforehand."
"The word 'solidarity' is the key principle on which the OIC is built on, since day one. Solidarity among member countries. So, I thought that we have to make a paradigm shift, and make solidarity not only in decisions, in resolutions, statements, in rhetoric in general, but make it in action," he said.
Dr. İhsanoğlu outlined that the OIC is pursuing these new goals cooperating with a variety of actors in various situations, such as playing a role in the peace processes in Somalia and Afghanistan. Its cooperation with other international organizations, such as the United Nations, along with regional organizations such as the Arab League, African Union , and the Association of Southeast Asian Nations is also increasing. The OIC is also increasingly interacting with non-governmental organizations to achieve common goals. Given that these efforts are still nascent, "You should not expect that we become as aggressive as other organizations," he said.
Speaking about the situation in Syria, he said "We should not be misled by what happened in the other countries, that here we will have a quick end to the crisis and the downfall of the head of the regime. We have to think it in a different way." He suggested that the Yemeni model, where the president voluntary stood down in return for immunity from prosecution, might be applicable to Syria.
Predicting the impacts of the uprisings in the Arab world on the Israeli-Palestinian conflict, he said, "Democratization will mean that new governments will be more sensitive to the aspirations of their nations. That means two things; one good for Palestinians, and one good for Israelis. The one good for Israelis is that there is no war. Democratic governments will not wage wars; dictators wage wars. This is the good news for Israel. The good news for Palestinians: new governments will be more sensitive to the aspirations of the Palestinians. So they will give more attention, more help to Palestinians to defend their cause in a democratic way."
He cautioned, however, that the Arab uprisings need time to realize their goals, disagreeing with the use of "Arab Spring" as a term. "What happened is not a spring, it's an autumn. It's the fall of the dictators, not the spring yet," he said. "We need a long time to come to the spring. We have a long autumn and long winter. We don't know how many years this winter will take, so it is not an Arab Spring. It is the autumn of dictators, the fall of dictators. The spring will come, InshAllah."
Interview with Ekmeleddin İhsanoğlu, Secretary-General of the Organisation of Islamic Cooperation >>
Watch video of event: