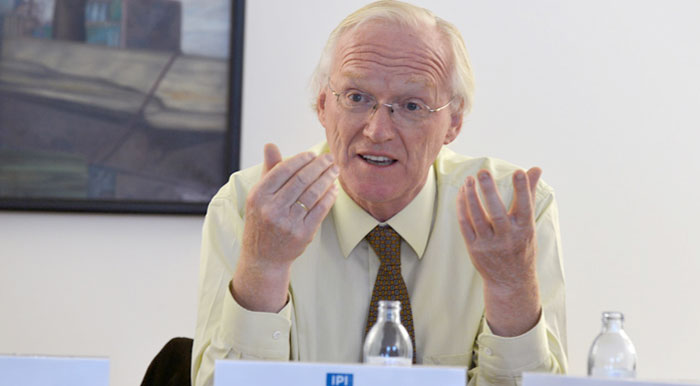 On May 25th, the IPI Vienna Office hosted an informal meeting on "Regional Solutions for Displacement: Lessons Learned from the Western Balkans." The workshop brought together senior government representatives of Bosnia and Herzegovina, Croatia, Montenegro, and Serbia for a unique opportunity to reflect on the process of finding regional solutions to the problem of forced displacement in the Western Balkans.
Representatives of the European Union, the Organization for Security and Co-operation in Europe (OSCE) and the United Nations High Commissioner for Refugees (UNHCR) took part, including the Personal Envoy of the High Commissioner, Anne Willem Bijleveld, and Pierre Mirel, Director for the Western Balkans in the European Commission Directorate General for Enlargement.
As a consequence of armed conflicts in the 1990s, over 3 million people were displaced both within and beyond the borders of Bosnia and Herzegovina, Croatia, Montenegro, and Serbia. Lives were turned upside down and homes were damaged or destroyed. Twenty years later, the way that the four affected countries have worked together to ensure the voluntary return and reintegration, or local integration, of refugees and internally displaced persons is considered a successful model that others can learn from.
In the past few years, former adversaries have worked together as partner countries to strengthen regional cooperation in order to find durable solutions for refugees and internally displaced persons. Political will and good-neighborly relations have been strengthened through the Sarajevo Declaration of January 31, 2005, the Belgrade Joint Communiqué of March 25, 2010, and the Belgrade Declaration of November 7, 2011 while joint working groups have led to practical results.
During the meeting, the negotiators discussed lessons learned from the process that transformed their relationship from animosity to partnership. Among the points highlighted was the need for political will and leadership, transparency, economic incentives, a regional approach, and a sense of ownership of the parties to the process. It was also stressed that a practical approach designed to address the plight of the most vulnerable helped to depoliticize the issue.
Among the external enabling factors that helped to drive the process forward were the political engagement of major actors (such as the EU and the USA), the support of multilateral organizations (such as the UNHCR and OSCE), and the pull factor of European integration. The role of the personal envoy was praised by all parties, particularly for the fact that through him the international community was able to speak with one voice.
The workshop concluded by looking at how the experience of finding regional solutions for displacement in the Western Balkans could be applied in other parts of the world, particularly in the OSCE area.
The event was organized by Switzerland (in its capacity as chair of the OSCE Human Dimension Committee) and UNHCR, in close cooperation with the OSCE.
IPI will prepare a report based on the findings of the meeting.