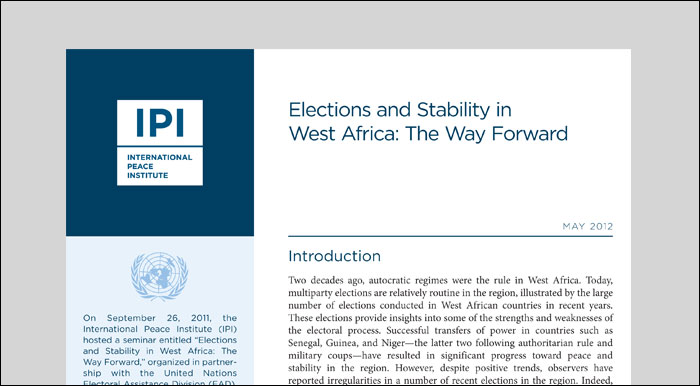 A large number of elections have been conducted in West African countries in recent years, and these elections provide insights into some of the strengths and weaknesses of the electoral process.
Successful transfers of power in countries such as Senegal, Guinea, and Niger have resulted in significant progress toward peace and stability in the region.
However, the region has also seen election-related crises, and election-related violence remains a concern. Coups took place just before scheduled elections in Mali and Guinea-Bissau in March and April of 2012, in addition to earlier high-profile cases of election violence in Côte d'Ivoire and Nigeria.
There is a consensus emerging that in African states with structural and institutional weaknesses, especially those emerging from years of conflict, increasing attention should be paid to creating conditions conducive to holding elections, and a regional conference was convened in May 2011 in Praia, Cape Verde to discuss elections and stability in the region.
This meeting note summarizes an IPI roundtable discussion following up on the Praia conference, organized in partnership with the UN Electoral Assistance Division (UN EAD). The report identifies a new paradigm for electoral assistance—one that integrates conflict-prevention strategies; gives increased attention to the political, not just technical, aspects of the electoral process; and views elections as one component of a longer-term commitment to building democracy.
To strengthen international electoral assistance, the note recommends the following best practices, among others:
Instead of focusing only on the first round of elections in post-conflict contexts, electoral support should be designed and delivered in a way that empowers domestic actors and institutions to organize their own elections in a sustainable manner.
Expensive, high-tech solutions may not always be appropriate; electoral assistance should be cost-effective and focus on building confidence in the electoral process among contestants and voters alike.
The relationship between international assistance providers should seek to maximize comparative advantages, encouraging collaboration not competition.
This meeting note was drafted by Kendra Collins, a consultant for UN EAD, with the support of Ann Wright, who at the time was a research assistant at IPI.