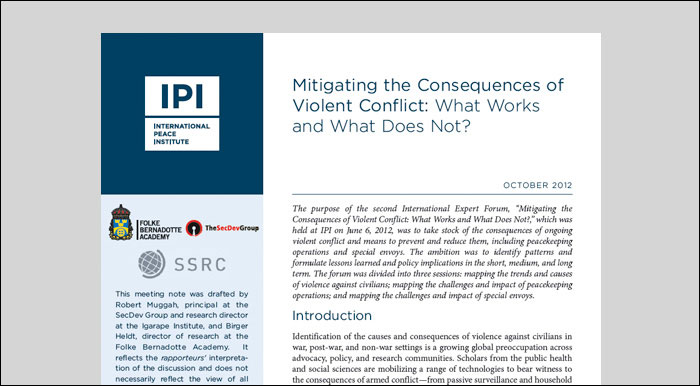 The International Expert Forum held the second of its four meetings at IPI on June 6, 2012. The meeting, entitled "Mitigating the Consequences of Violent Conflict: What Works and What Does Not?" included over 40 policymakers, practitioners, and scholars.
The second IEF meeting considered the consequences of ongoing conflict and documented innovative means to prevent and reduce the escalation of organized violence. Scholars from the public health and social sciences are mobilizing a range of social technologies to bare witness to the consequences of armed conflict – from passive surveillance and household surveys to crowdsourcing and satellite mapping. These and other efforts give a clearer picture of human suffering in the midst of war.
Additionally, participants examined the trends and magnitudes of these challenges as identified in recent systematic empirical research. Medium- and long-term trends suggest a progressive reduction in intra- and inter-state conflicts. A wide range of reasons were put forward to explain this decline, ranging from the demise of patron-client relations following the Cold War to the increased effectiveness of multilateral peace support efforts and norms associated with the protection of civilians.
Participants also discussed lessons learned from peacekeeping operations and Special Envoys in dealing with conflict. Presently, there are more than 70 UN Special Envoys and Special Representatives active around the world. Their methods to mitigate armed conflicts involve a range of soft approaches–such as negotiation, the delivery and protection of humanitarian assistance, and the establishment of local peace zones–to outright military anti-spoiler and peace enforcement actions. These methods are often used in combination during a single conflict.
IEF is a joint collaboration between IPI, the Folk Bernadotte Academy, The SecDev Group, and the Social Science Research Council. It provides an informal venue for exchanging knowledge and experience on issues relating to conflict prevention, peacemaking, and peacebuilding. IEF is conducted on an annual basis and with a multi-year strategic vision.
IEF held its first meeting, which discussed preventive diplomacy, on December 15, 2011. The subsequent 2012 and 2013 IEF meetings will focus on peace processes, as well as peacebuilding, stability operations, and post-conflict reconstruction issues. All IEF meetings are held under the Chatham House rule of non-attribution.