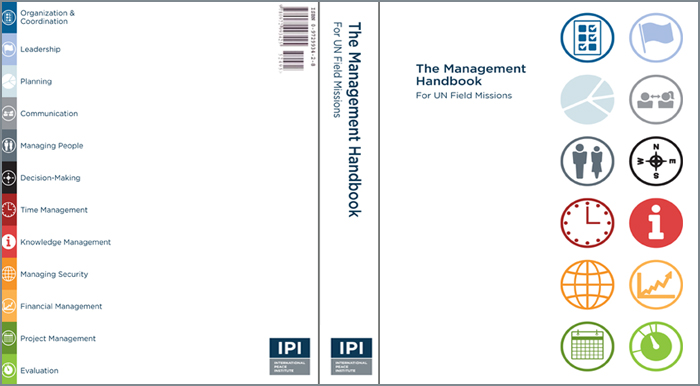 Since 2010, the International Peace Institute has partnered closely with a number of practitioners, researchers, and experts to produce a one-of-a-kind handbook on management for civilian staff in UN peace operations.
This resource is aimed at filling a critical gap in the management of the UN's many field operations around the world.
The Management Handbook for UN Field Missions introduces critical concepts of management theory while offering practical tools and real-life examples of good management practice from UN field missions. The principles, tools, and tips of the handbook are to serve as baseline resources for every civilian in the field who has struggled with management tasks – be they at the bottom or the top of the organizational hierarchy.
Featuring twelve chapters, the handbook opens by examining management issues at a strategic level: organization & coordination, leadership, and planning. The next section covers the set of management skills that any successful manager has learned to master: communication, managing people, decision-making, and time management. The final chapters – on knowledge management, security, financial management, project management, and evaluation – outline how an organization is run prudently, efficiently, predictably, and with maximum impact.
Contents:
FOREWORD by AMEERAH HAQ, HERVÉ LADSOUS, B. LYNN PASCOE
PREFACE by TERJE RØD-LARSEN
INTRODUCTION
1. ORGANIZATION & COORDINATION
2. LEADERSHIP
3. PLANNING
4. COMMUNICATION
5. MANAGING PEOPLE
6. DECISION MAKING
7. TIME MANAGEMENT
8. KNOWLEDGE MANAGEMENT
9. MANAGING SECURITY
10. FINANCIAL MANAGEMENT
11. PROJECT MANAGEMENT
12. EVALUATION
Contributors to the Management Handbook included Alice Hecht, Julian Junk, Vickesh Kambaran, Till Papenfuss, Dirk Salomons, and Cyrus Samii. The IPI project team consisted of Arthur Boutellis, Adam Lupel, Francesco Mancini, Till Papenfuss, and Adam C. Smith.
Related materials:
Remarks by Hervé Ladsous and Ameerah Haq