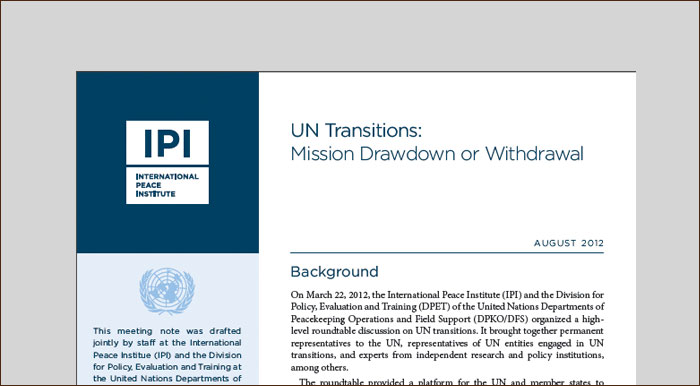 The meeting note summarizes a high-level discussion on the drawdown and withdrawal of peacekeeping and special political missions. It addresses the political dimensions of these transitions from the perspective of member states and examines the UN's approach to planning and managing these transition phases.
Emphasizing national ownership, the note suggests that a transition should not be seen as an event, but as a gradual reconfiguration process, during which the existing UN presence adapts to larger transition processes of the host country.  To achieve this goal, it recommends improved communication and a clearer division of labor among UN actors, international partners, and the host government. It further highlights the need for better management of expectations on all sides.
The meeting note was drafted by staff at IPI and the Division for Policy, Evaluation and Training at DPKO/DFS.
For more information on UN peacekeeping transitions, with a particular focus on the perspectives of UN member states and decisions by the Security Council, please see the IPI issue brief UN Peacekeeping Transitions: Perspectives from Member States.