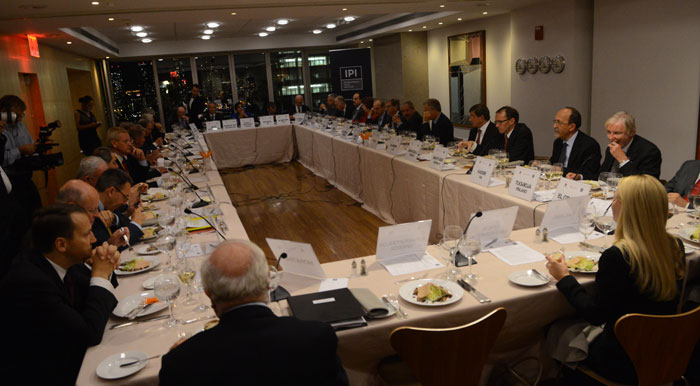 On Monday, September 24th, IPI held its Seventh Ministerial Dinner on the Middle East in its Trygve Lie Center for Peace, Security, and Development.
The working dinner was attended by some 21 foreign ministers and other high-level representatives from the Middle East, Europe, and beyond. It was co-hosted by IPI President Terje Rød-Larsen; Sheikh Abdullah Bin Zayed Al Nahyan, Foreign Minister of the United Arab Emirates; and Jean Asselborn, Deputy Prime Minister and Foreign Minister of the Grand Duchy of Luxembourg.

The gathering included key Middle East figures such as Tony Blair, Quartet Representative for the Middle East Peace Process, and Yasser Abed Rabbo, Secretary-General of the Executive Committee of the Palestianian Liberation Organization.

Other attendees were the Foreign Ministers of Finland, Denmark, Poland, the Netherlands, Belgium, Cyprus, the Palestinian Authority, Jordan, Liechtenstein, Morocco, Turkey, Switzerland, Sweden, Norway, Kuwait, and Tunisia. Also in attendance were the Deputy Foreign Minister of Italy, the Deputy Secretary of State of the US, the Secretary-General of the Council of Europe, the High Representative of the European Union for Foreign Affairs and Security Policy, and other senior officials from governments and the United Nations.

The working dinner was held under the Chatham House rule of nonattribution.