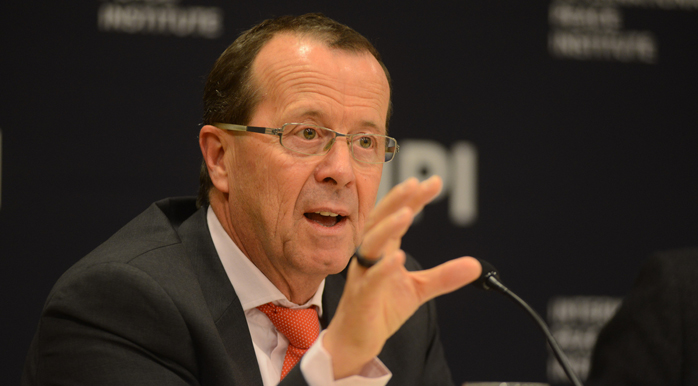 "I think we are more needed than ever," said Martin Kobler, Special Representative of the Secretary-General (SRSG) for Iraq, and Head of the United Nations Assistance Mission for Iraq (UNAMI), at an IPI event on November 27, 2012. "This year, 2012, is the first year of real independence and sovereignty of Iraq."
Mr. Kobler pointed out a few particular challenges facing both Iraq and UNAMI. "Iraq is at the fault-line of the Sunni and the Shiite world, with the only Arab-Shia government in the region," he said. Additionally, "There are increasing rifts between the Arabs and Kurds."
"Article 1 of the Iraqi constitution says Iraq is a single federal state. [But] every federal state in the world has a second chamber, and Iraq does not," explained Mr. Kobler. "A second chamber, where the provinces have a say on the central level, might contribute to reducing this widening gap."
Mr. Kobler gave an example from the city of Kirkuk–which the Kurds refer to as their Jerusalem, and which has a mix of Arabs and Kurds. In 2005, Arabs boycotted Kirkuk's elected Provincial Council.
UNAMI also focuses on five of the 48 laws in the Iraqi constitution that lack implementation, including the revenue-sharing oil and gas law, said Mr. Kobler.
Oil and gas account for a large portion of Iraq's wealth. Iraq produces 3 million barrels of oil per day; by 2035, that number will rise to 8 million, he explained.
Wealth accumulated from oil and gas, however, is not used effectively in Iraq, and the revenue-sharing oil and gas law would address that, he added.
"Nothing is a question of money in Iraq," he said. "It's a matter of organization, it's a matter of governance, it's a matter of red-tape, of bureaucracy, of corruption, but it is not a matter of money."
Mr. Kobler, who was the ambassador of Germany to Iraq in 2006 and 2007, shared a story about his struggles pushing the revenue-sharing oil and gas law forward: "When I left Iraq in 2007, the revenue law was on the table… it was at that time managed by Deputy Prime Minister Barham Salih, who said, 'Listen Martin, next week it really will go through Parliament.' I come back five years later, same law on the table: 'Next week, yes!'"
There are also bilateral issues facing Iraq, such as hostilities between Iraq and Kuwait, which UNAMI is helping to address. For example, "[Iraqis] would like to have an Iraqi airline, Iraqi Airways, to fly all over the world. This cannot be, because there are still lawsuits going on against Iraqi Airways by the Kuwaitis," he said.
Mr. Kobler noted that UNAMI is focused on supporting youth, women, and the environment.
He explained "At the United Nations, we are impartial, but we are not neutral… we keep distance from all sides in negotiations, [but] we represent values of gender equality, democracy, human rights, etc."
"If you sit together with Iraqi youth, the most popular topic in conversation is, 'how do we leave the country?'" said Mr. Kobler. He argued that, to encourage youth to stay in the country, the Iraqi government should build frameworks for vocational training and political participation.
"Iraq is a young country," he explained. "You do not see it regularly, because if you talk to the government, these are all mainly elderly gentleman… but 50 percent of the population is below the age of 18."
On the neglect of environmental issues in post-conflict areas, Mr. Kobler said that UNAMI is trying to put the environment on their political agenda. "The sand and dust storms in Iraq has doubled in the last five years and will double again in the five years to come," he warned.
In attendance at IPI's event was Hamid al-Bayati, Ambassador of Iraq to the United Nations. He explained that Saddam Hussein brainwashed the Iraqi population and turned them against the UN. "[Iraqis] felt at some time that the UN was responsible for killing Iraqi babies," he said.
Mr. Kobler echoed Mr. al-Bayati's worries that the Iraqi's perception of the UN was not positive, with people often mistaking UN personnel for US personnel.
Mr. Kobler also served as the Deputy Representative of the United Nations Assistance Mission in Afghanistan (UNAMA).
The major difference between UNAMA and UNAMI, he noted, was that in Kabul, Afghanistan, there were many international stakeholders. But in Baghdad, there was only UNAMI. Mr. Kobler hoped that national embassies and, in particular, the European Union in Baghdad, would play a more active role in coordinating with UNAMI.
"What can a [UN] mission do with its limited resources?" he posed. According to Mr. Kobler, UNAMI's budget dropped from 172 million to 142 million US dollars. Despite the cuts, Mr. Kobler claimed that UNAMI did not sacrifice substance.
The event was chaired by Warren Hoge, IPI Senior Adviser for External Relations.
Interview with Martin Kobler, SRSG for Iraq and Head of UNAMI
Watch event video: