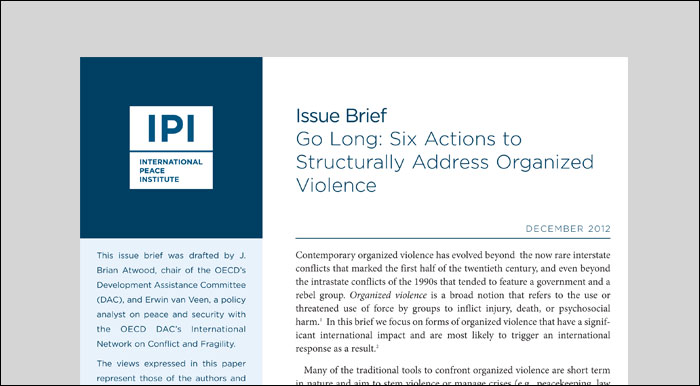 This issue brief presents a long-term vision of how to address organized violence. It argues that in order to be most effective, international action must be integrated in nature, global in scope, and focused on reducing the structural conditions that provide fertile ground for violence.
Contemporary organized violence has evolved beyond the interstate conflicts that marked the first half of the twentieth century, as well as the intrastate conflicts of the 1990s, which often pitted governments against rebel forces. Traditional tools used to confront organized violence–such as peacekeeping, law enforcement, mediation, and arguably many forms of development cooperation–are short term in nature.
In this spirit, the authors propose six concrete actions:
1. Generate an integrated UN policy to address organized violence of all types.
2. Develop an approach to the illegal drug trade that is based on public health, development, decriminalization, and law enforcement.
3. Create a binding international regulatory framework for the security-services industry.
4. Strengthen incentive structures and international support for regional and local efforts to prevent organized violence.
5. Support "infrastructures for peace" that can transform cultures of violence.
6. Stimulate leadership for peace.
About the authors:
J. Brian Atwood is the chair of the OECD's Development Assistance Committee (DAC), and Erwin van Veen is a policy analyst on peace and security with the OECD DAC's International Network on Conflict and Fragility.