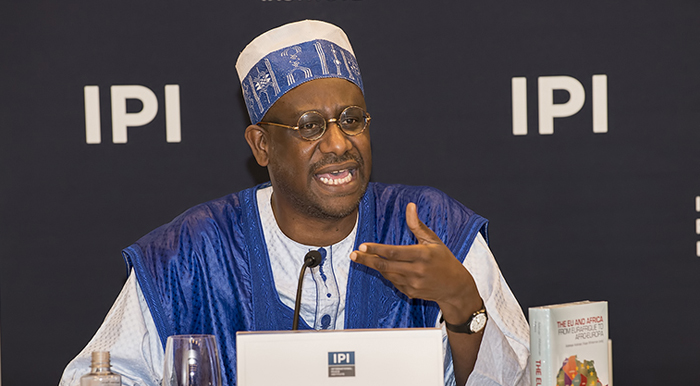 "Even though the European Union has been Africa's largest trading partner over the last five decades, this is an area in which few African institutions have produced academically rigorous and policy relevant knowledge," lamented Dr. Adekeye Adebajo, Executive Director at the Centre for Conflict Resolution in Cape Town, and co-editor of the book, with Kaye Whiteman, The EU and Africa–From Eurafrique to Afro-Europa. Dr. Adebajo presented the newly launched book to an IPI audience on February 12, 2013.
In a collection of essays written by prominent African and European writers, the book engages the historical, political, socioeconomic, and cultural dimensions of the European Union's relationship with Africa.
The book begins with Europe's attempts to refashion its relations with Africa, particularly after African countries achieved independence, starting in the mid-1950s. At the same time, it details the historical processes behind Europe's own quest for unity and follows with an exploration of the strategic aspects of the relationship between Europe and Africa today. The study concludes with a probing look at whether a future "Afro-Europa" relationship, defined by genuine equality, partnership, and mutual self-interest, can be achieved as leaders on both continents seek to address contemporary peace and security challenges.
Illustrating his own chapter in the book, entitled "Paradise Lost and Found," Dr. Adebajo described the disparities between the European Union and the African Union.
"The AU, which celebrated its 10th anniversary last year, and the EU, which celebrated its 55th, can be seen as efforts to create perfect unions, modern Towers of Babel, by bringing together scattered African and European diasporas," he said. "The African Union is currently attempting to unite a continent of 800 million people, from the Cape to Cairo, while the European Union is striving to bring together 500 million people, from Sofia to Stockholm."
"While pan-Africanism was an ideology of liberation," he explained, "pan-Europeanism was an ideology of conflict prevention."
Portraying the relationship between the two regional institutions as a tale of a rich man's club and a poor man's club, Dr. Adebajo said that the EU accounts for 30% of the world's economy while Africa accounts for less than 2% of world trade.
"While the EU represents a carefully calibrated balance between supranationalism and sovereignty, decision making within the AU remains dominated by its heads of state. Unlike the EU, where power is shared between its institutions, the AU is a top-down, heads-of-state-driven body," he argued.
He continued: "Europeans institutions have evolved gradually over time and acquired increasing powers as they gained credibility and effectiveness. The AU's institutions, in contrast, do not appear to be evolving organically, and African human rights courts seem to be an unsynchronized process of a miraculous big bank."
Dr. Adebajo described African integration as "the rickety ride on the back of a mammy wagon with failing lights and pot-holed roads and the memorable sign 'no condition is permanent' inscribed on the vehicle," concluding that "Africa represents the tragic case of paradise lost, while Europe, even with its current economic travails, could represent a case of paradise found."
Joining the discussion was Rob de Vos, Consul General of the Netherlands in New York and former Netherlands Ambassador to South Africa, who shared lessons he learned during his time working in Africa.
He argued that Europe and Africa should stop fooling themselves with documents full of grand scenarios and strategic partnerships, often lacking concrete results, and should analyze progress in their relationship based on facts and not on emotions.
Mr. de Vos suggested that the yardstick to measure the effectiveness of policies should be the level of coherence. "Policies should reinforce each other. It's not only about aid. It's about trade, migration, [and] our approach to development, defense, and diplomacy," he said.
He asserted that while the field of development cooperation is probably the most evaluated in the world, oftentimes impact cannot be measured and effective results on the ground are not translated into macroeconomic growth.
Mr. de Vos also stressed the need for home-grown African capacity to analyze socioeconomic development, highlighting that most of the socioeconomic analytical work is done outside the continent.
He concluded that an alternative model for Africa's economy still hasn't been presented and that investments in human capital, physical infrastructure, technology, and institution building are still needed.
"In the present situation of world affairs, it's my feeling [that] it's up to Europe to take the partnership with Africa to a higher level," he said.
Peter Schraeder, Professor of Comparative Foreign Policy and African Studies in Loyola University in Chicago, also offered his views on the complex relationship between Africa and Europe.
"The concept of neocolonialism, essentially, argues that the granting of legal independence in the 1950s really did very little to change the continuing web of economic, politically, cultural, [and] military ties that continues to bind Africa to Europe today," he said.
"To what degree are we seeing enhanced levels of equality and moving away from concepts of neocolonialism?" he asked.
"EU foreign policy, for better or for worst, oftentimes follows the leadership of the European country that happens to be most involved in an African country at a particular point in time. And I think that this is especially the case when we talk about the role of France in its former colonies," he remarked, arguing that that the debate over intervention in North Africa is critical to the debate about the EU and Africa as a whole.
Mr. Schraeder went on to set out seven different tools that are used to promote political change and democratization, from the less coercive to the most: the pursuit of classic diplomacy, the provision of aid, the attachment of political conditionalities, the adoption of economic sanctions, covert intervention, paramilitary intervention, and the most forceful tool of all, direct military intervention.
Commenting on the US's relationship with Africa and the high expectations people had on President Obama's foreign policy towards Africa, he said, "Africa to this day, like under every US administration, remains last in the global hierarchy of US foreign policy interest," and will probably not change under Obama's second term.
John L. Hirsch, Senior Advisor at IPI, chaired the discussion.
Interview with Dr. Adekeye Adebajo on the EU and Africa
Watch event: