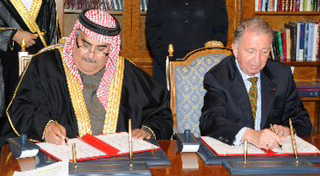 Terje Rød-Larsen, President of the International Peace Institute (IPI); Andrea Pfanzelter, Director of IPI's Vienna Office; and Maureen Quinn, IPI's Director of Programs, held meetings from January 30 to February 1 in Manama, Bahrain to discuss regional security and cooperation in the Gulf.
During the visit, President Rød-Larsen and Foreign Minister Sheikh Khalid bin Ahmed Al Khalifa signed an agreement, which aims to promote development, peace and international security; strengthen security and cooperation in the Gulf; and enhance research and policy on peace and security issues.
Mr. Rød- Larsen discussed the implementation of the agreement, the situation in the region and the plans for a renewed national dialogue in Bahrain during the visit with the Deputy Prime Minister, the Foreign Minister, the Minister of Interior and the Minister of Information. The Institute plans to open an office in Manama in 2013.