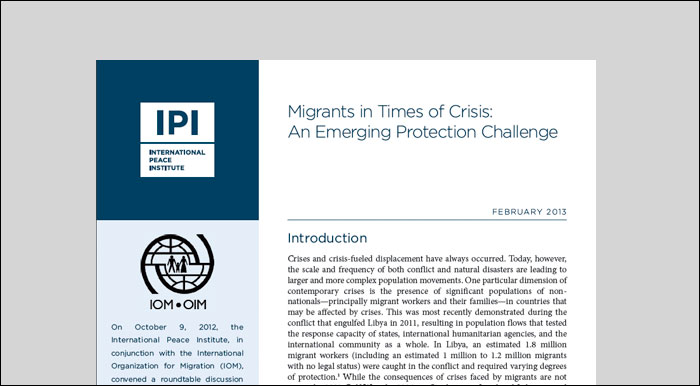 This meeting note is based on a roundtable discussion held at IPI on October 9, 2012, which examined both the short-term protection of migrants in times of crisis, and the long-term consequences when migrants are forced to return home due to a conflict or a natural disaster.
The meeting note provides an introduction to the topic of how to address the needs of migrant workers caught in the midst of crises while far from home. It notes that this is a problem with a long history, and it points to the plight of almost two million migrants during the crisis in Libya as a wake-up call for the international community.
It concludes with four key ideas identified by roundtable participants as necessary to address more effectively the situation of migrants caught in crises:
Focus on the broader policy environment, and, from there, find the appropriate solution.
Improve effective coordination.
Pay attention to longer-term consequences.
Bridge gaps between humanitarian emergency relief and longer-term development objectives.
The roundtable discussion was held in conjunction with the International Organization for Migration (IOM), and formed part of IOM's International Dialogue on Migration, which had "Managing Migration in Crisis Situations" as its theme in 2012.