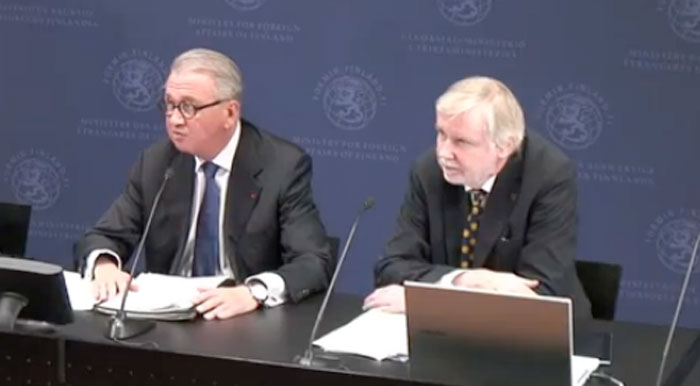 On April 8, 2013 in Helsinki, IPI President Terje Rød-Larsen presented to Finland's Foreign Minister Erkki Tuomioja a survey of the 2012 elections to the UN Security Council.
This survey, "Taking Stock, Moving Forward," was conducted by IPI at the request of the Foreign Ministry of Finland. Its objective is to provide an independent assessment of the elections along with lessons learned.
The report focuses on the campaign for the seats allocated to the Western European and Others Group (WEOG) for which Australia, Finland, and Luxembourg were competing. It looks in particular at the themes of the campaign, the strategies chosen by the candidates, the resources they mobilized for their campaigns, their tactics, the ideologies that shaped the context of the elections and the attitudes of the candidates, and the ethical dilemmas they faced.
It also identifies lessons learned for Finland, for its close regional partners of the Nordic states and of the European Union, and for the larger UN membership.
The report is based on confidential interviews conducted by IPI with more than fifty delegates and senior officials from all regional groups in member states missions in New York and in capitals, as well as a few independent experts.

Read the report (PDF)

Read the executive summary (PDF)
Watch the press conference for the presentation of the report in Helsinki