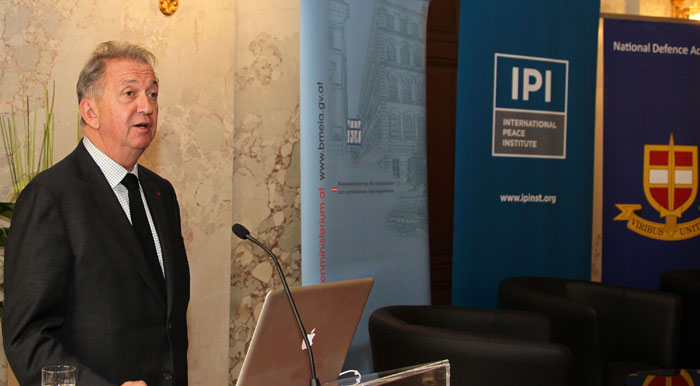 On May 14-15, the IPI Vienna Seminar took place, focusing on the dangerous nexus between crime, conflict and terrorism, particularly in failing states. This 43rd session of the Vienna Seminar–which was held in the historic Marble Hall of the Austrian Ministry for European and International Affairs–was attended by over one hundred participants from around the world, including leading experts on crime and conflict, diplomats, representative of international and regional organizations, senior military and police officials, as well as NGOs, students, journalists, and researchers.
Following a long tradition, the meeting was organized by IPI together with the Austrian Federal Ministry of Defence and Sports and the Austrian Federal Ministry for European and International Affairs.
In his opening remarks, IPI President Terje Rød-Larsen illustrated how over the past fifty years the trajectories of organized crime and peace operations had converged. The issue is now high on the international agenda because crime and conflict are increasingly inter-linked—from Colombia to the Democratic Republic of the Congo, from Kosovo to Somalia. Links between terrorists, insurgents and criminal groups in Afghanistan, Iraq, and now Mali show how complex and dangerous the problem can be, both for the countries concerned and for regional and international security. Several participants warned that Syria is fast becoming such a dangerous nexus.
The point was made that failing states are particularly vulnerable since weak governance and underdevelopment attract crime, and crime undermines governance and development. Where governance and the rule of law are weak, the profits of crime can even buy power. The human costs are high: more people now die as a result of crime-related violence than from conflict-related violence.
It was observed that one should take into account the threat posed by "fragile cities," not just "fragile states," since some neighborhoods in rapidly expanding cities are out of control of the municipal authorities.
In six candid discussion sessions, participants examined the threat posed by organized crime and its impact on international, regional, and human security.
It was remarked that some countries have become "mafia states," either because they have become infiltrated by predatory criminal groups, or because some members of the elite have become involved with illicit activities.
In some regions outside the control of central authorities, parallel forms of government have been established that rely, to a large extent, on the revenues gained from illicit activity. It was observed that while such groups are usually branded as "criminals," they nevertheless often enjoy legitimacy in the eyes of the people since they deliver the goods where the state is unable or unwilling to provide public services or security.
Participants discussed how to reduce vulnerability and increase resilience in states that are under attack from organized crime. It was pointed out that more than a law enforcement approach is necessary, including improving development and the rule of law. International responses to crime and terrorism were discussed, particularly how peace operations can deal with the political economy of conflict and how police forces are trying to tackle cyber crime.
One session was devoted to the precarious situation the Sahel region of Africa where there is an explosive cocktail of insurgent, terrorist, and criminal groups in a fragile state. The causes and consequences of the current crisis were discussed, as were potential remedies.
The seminar concluded with a discussion on how multilateral cooperation could be enhanced to strengthen sovereignty and reduce the threat posed by crime and terrorism.
1311_vienna_seminar_Crime_Conflict_Terrorism.pdf
Related Coverage:
In English:
Dr. Mahmoud Mohamedou speaks at 43rd IPI Vienna Seminar on the nexus between crime, conflict, and terrorism (Geneva Centre for Security Policy, May 17, 2013)
In German:
Österreichs Bundesheer, May 15, 2013
Der Standard, May 16, 2013
Die Presse, May 22, 2013
Wiener Zeitung, May 22, 2013
Watch event:


Welcoming Remarks


Session 6