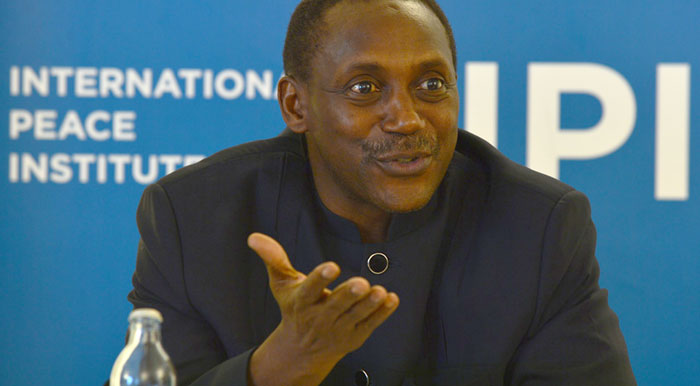 "We must focus on energy for peace, as well as energy for development," said Kandeh Yumkella, Director-General of the United Nations Industrial Development Organization (UNIDO), at the first plenary meeting of the IPI energy and security task force held in Vienna on May 29th. The meeting provided the first opportunity since the launch of IPI's energy and security initiative in Abu Dhabi in January for task force members to discuss the impact of energy on security and the potential role of IPI in promoting cooperation to prevent and defuse energy-related conflicts. This is vital since, at the moment, there are few multilateral mechanisms which fulfill this function.
While there is growing awareness of the importance of energy for development, there has been less focus on the relationship between energy and stability. Yet, increasingly, energy is becoming a source of tensions; for example, in northern Iraq, South Sudan, the Niger Delta and parts of Central Asia.
Participants exchanged views on potential conflict areas, but also cited positive examples of how energy has been used to build confidence between countries and promote regional cooperation.
An expert-level meeting on energy and security issues in the Caspian, Caucasus, and Central Asia will be held in Vienna on June 28th. Other regions will be studied over the course of the two-year duration of the project.
The task force is chaired by IPI with the support of Masdar, a leading renewable energy company based in Abu Dhabi. The IPI Vienna office acts as the Secretariat.
Task Force members in attendance at the first plenary meeting included Christoph Frei, Secretary-General of the World Energy Council; Geert Greving, Chairman of the Taskforce on Geopolitics for the International Gas Union (IGU); Benita Ferrero-Waldner former European Commissioner for External Relations; and Kandeh Yumkella, Director-General of UNIDO. Observers at the meeting included ambassadors from Kazakhstan and the United States, as well as Torstein Indrebo, Secretary-General of the International Gas Union.
The next plenary meeting of the task force is planned to take place in New York in September.