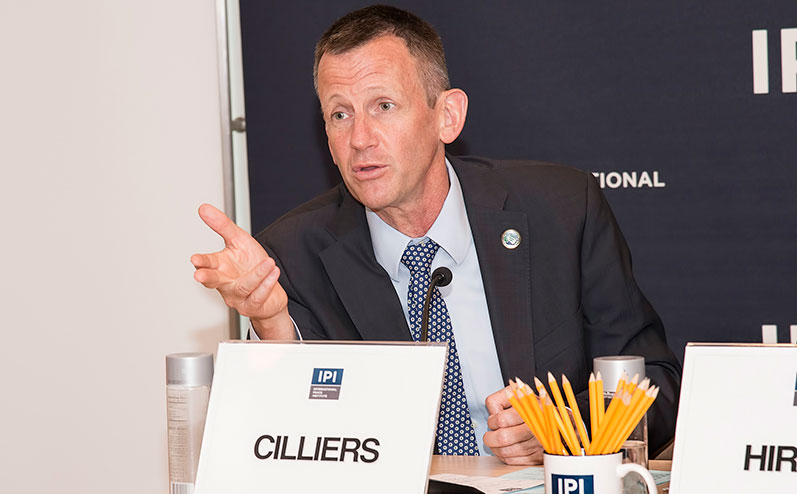 A discussion held at the International Peace Institute on June 26th affirmed that recurring drivers of conflict in Africa can be addressed by quality leadership, accountable governance, strong institutions, and a healthy relationship between the state and the citizens. Otherwise, violent armed conflict will continue to occur mainly in poor countries that have weak governance or previous experience of conflict; suffer from spillover from a "bad neighborhood;" and/or have a young population or widespread youth unemployment.
The meeting, which used a new research report "The Future of Intrastate Conflict in Africa: More Violence or Greater Peace?" from the Institute for Security Studies (ISS) as the basis for the discussion, included a presentation by one of the paper's authors, Jakkie Cilliers, Executive Director of ISS, and comments by Ambassador Kingsley Mamabolo of South Africa.
"The world is changing and in that change, there are large uncertainties for Africa," Dr. Cilliers said, noting that intrastate conflict will continue to decline over time as the nature of violence evolves, blurring the lines between war and crime. He argued that Africa will continues to require assistance in various areas, including conflict management and post-conflict reconstruction and will need more government capacity to help and develop and transition from a development model to one that provides jobs and opportunities.
"We're making two steps forward, one step back which means where we moved from the 60s to where we are today, there has been a lot of progress in Africa," Ambassador Mamabolo contended. "Everyone agrees the potential for Africa is there." While focusing on the solutions, he questioned what impact the international community makes in finding recovery for Africa.
"Africa alone is not able to deal with these problems comprehensively. It is the obligation of Africa to find solutions to the problems, but it is also the obligation of the international community as well, to add and find solutions to the many complicated problems," Ambassador Mamabolo asserted.
As the United Nations Multidimensional Integrated Stabilization Mission in Mali (MINUSMA) prepares to take over from the African-led Assistance Force, the future of intrastate conflict in Africa is at the top of security and development agendas of many international policymakers and practitioners. The discussion produced a number of insights:
1. There has been considerable progress in the number of frameworks, policies, and strategies promoting economic growth, democratic governance, and peace and stability in Africa. Nevertheless, adherence to these frameworks remains weak, often due to a lack of political will and capacity. And the rate of success in confronting the internal drivers of contemporary violence is still insufficient to meet the needs of Africans.
2. The continent is faced with a significant youth bulge, pervasive inequality, many stalled democratic processes, and mismanagement of both human and natural resources. Accountable governance must be established to tackle these issues, or advances in each area will be short lived. This requires clear national and regional review mechanisms and strong institutions to tackle impunity at all levels.
3. African institutions are taking steps to address the drivers of conflict and opportunities for peace, but they must be supported by African leaders who address the drivers of conflict and provide practical management of the state and economy. They also need the support of the international community.
4. Stability requires three pillars: peace, security, and development. The international community must therefore find coherence between its security and development strategies, two sides of the same coin that must be pursued simultaneously and carefully coordinated.
5. In undiversified, weak economies, the state remains the main vehicle for access to wealth. As a result, those that control the state control the economy, opportunities for corruption abound, and economic empowerment is limited to a minority.
6. Education is key to facilitating a shift from the risks posed by the youth bulge and gender inequality to opportunities for economic, social, and security gains. An educated population can hold its government accountable for the actions it takes.
Watch event: