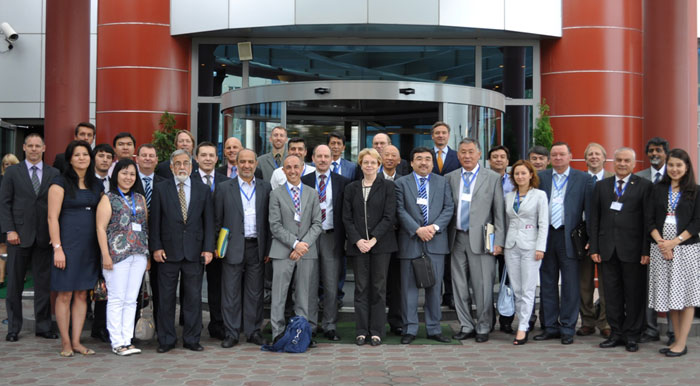 Regional cooperation for disaster preparedness and relief in Central Asia was the topic of a July 3rd roundtable discussion held in Almaty, Kazakhstan that brought together representatives from the Central Asian countries of Kazakhstan, Kyrgyzstan, Tajikistan, and Uzbekistan, and included officials from emergency services from Afghanistan, Azerbaijan, and Iran, as well as international experts on civil-military coordination for disaster risk reduction (DRR).
The roundtable was co-organized by IPI's Vienna Office together with the United Nations Office for the Coordination of Humanitarian Affairs (OCHA) and the United Nations Development Programme (UNDP) with support from the Ministry of Foreign Affairs of the Republic of Kazakhstan.
The meeting was called because Central Asia is highly susceptible to large-scale natural disasters–particularly earthquakes and floods–and yet there is limited regional cooperation in terms of disaster preparedness and relief. The aim was, therefore, to bring experts from Central Asia together around the same table in order to explore the extent to which civil-military coordination is already taking place in the region, and to discuss ways of enhancing that cooperation based on good international practices and the experiences of other regions of the world. As the OCHA motto says, "Coordination Saves Lives."
Participants were briefed on international efforts to facilitate effective deployment of military and civil defense assets (MCDA) in relief operations. They were also encouraged to become actively engaged in multilateral initiatives designed to improve disaster preparedness and relief including HOPEFOR, the International Search and Rescue Advisory Group (INSARAG), the Istanbul Process, and the MCDA Consultative Group. They were also informed about regional initiatives in the Asia-Pacific and Western Europe (for example, associated with the European Union and NATO), and were briefed on the work of the Australian Civil-Military Centre.
Participants from Central Asia and its neighborhood then exchanged ideas on how to enhance cooperation. It was noted that the region has great potential for "inter-operability": most countries of the region have governmental institutions for emergency situations, share a common historical legacy, speak Russian, and use similar equipment. The potential importance of civil-military coordination in relation to the activities of NATO, the Collective Security Treaty Organization, and the Shanghai Cooperation Organization in the region was also noted.
Among the ideas put forward to improve regional cooperation in the future were: establishing a regional network of disaster relief experts; identifying national MCDA focal points; harmonizing DRR standard operating procedures; implementing relevant international guidelines at the national level; operationalizing the analysis of relevant needs assessments; "mainstreaming" disaster risk reduction into broader development initiatives; and making use of the (newly opened) Central Asia Centre for Disaster Response and Risk Reduction in Almaty.
Key stakeholders will now consider how to follow-up the meeting in order to put some of these suggestions into practice.
A full meeting report will be issued this autumn.