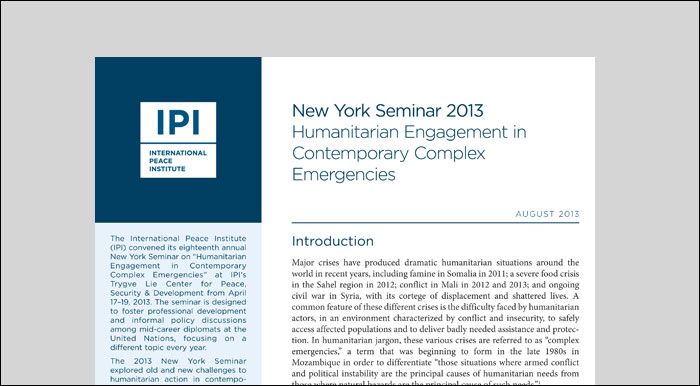 This meeting note presents a synthesis of discussions from IPI's eighteenth annual New York Seminar, which explored old and new challenges to humanitarian action in contemporary multifaceted emergencies. Complex conflict-related crises, such as the one in Syria today, present significant challenges for humanitarian actors: aid risks becoming politicized; warring parties can divert it; nonstate armed groups may prevent access to affected populations; and sovereign states may be wary of outside interference. How have such complex emergencies changed in recent years? And how can the international humanitarian system adapt?
The report examines the rise of nontraditional humanitarian actors and addresses the issue of engaging nonstate armed groups for humanitarian access. It then draws out implications for the future of humanitarian action and for its fundamental principles of humanity, impartiality, independence, and neutrality.
1. Increasing complexity: The biggest challenge to humanitarian engagement in today's conflict-related crises lies in the increasing complexity of conflict settings and the proliferation of actors who get involved in these settings.
2. Opportunity for synergies: This proliferation of humanitarian actors also presents an opportunity to better meet the needs of affected communities by drawing on the comparative advantages of each actor.
3. Decolonization of humanitarian principles: To ensure the continued effectiveness of humanitarian engagement in this changing landscape, efforts should be made to overcome perceptions of the international humanitarian system as a Western construct and to forge a more universal understanding of humanitarian action and its underlying principles.