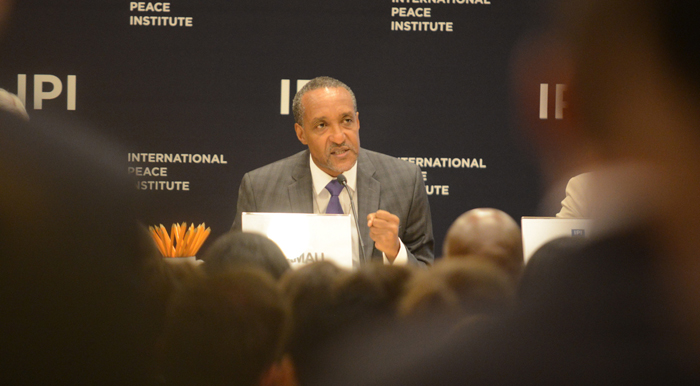 The complexities surrounding Kenya's recent proposal to withdraw from the International Criminal Court (ICC)—a decision regretted by most representatives of the Assembly of States Parties to the Rome Statute—was the topic of a recent IPI policy forum on September 19th.
Ambassador Macharia Kamau of Kenya made an impassioned case for his country's plan to withdraw from the ICC and described the events that led to that decision.

"The entire international justice system is in uncharted waters," said the ambassador. "The Rome Statute did not envision a situation where a popularly elected president would be carted off to the ICC. It mainly deals with warlords and fallen leaders, disgraced individuals."
In contrast, Ambassador Tiina Intelmann, President of the Assembly of States Parties to the Rome Statute and a panelist in the discussion, said, "The Rome Statute does not envision impunity being an option at all."
"The ICC is there to avoid impunity and thereby avoid crimes against humanity," she said.
The trial against Kenyan Deputy President William Ruto, which began on September 10, 2013, and the pending trial of Kenyan President Uhuru Kenyatta scheduled for November of this year, are moving forward. Even if Kenya formally withdraws from the ICC, under the terms of the Rome Statute, it must continue to cooperate with the ICC for one more year, unless the leaders, who are charged with crimes against humanity for involvement in the December 2007 post-election violence, renounce all current and future dealings with the court.
"The African Union seems poised to support Kenya and potentially encourage the withdrawal of other African states from the ICC, which would have a very significant bearing not only of the ICC but of international law more broadly," said Ambassador John Hirsch, Senior Adviser, International Peace Institute, who chaired the IPI event. Ambassador Hirsch told the audience that rejection of the Rome Statute by some or all African states, over and above whatever Kenya decides to do, could have a detrimental impact on international law, the fight against impunity, and the prevention of mass atrocities.
Thirty-four African countries have ratified the Rome Statute, with 17 of them being original signatories. Recent remarks by the African Union challenge the integrity of the ICC and infer that it may encourage other African states to withdraw from the ICC.
Ruti Teitel, a comparative law professor at New York Law School and also a panelist at the event, said, "International law is in a very delicate place right now with respect to the judgment of standing leaders." However, "it would be a matter of regret if there was a politicization of the ICC on either side."
During an IPI event on September 25th, Tunisian President Moncef Marzouki affirmed his country's support of the ICC. "We need this International Criminal Court. We need it for the sake of Africa, and we have to stick with it."
Watch event: