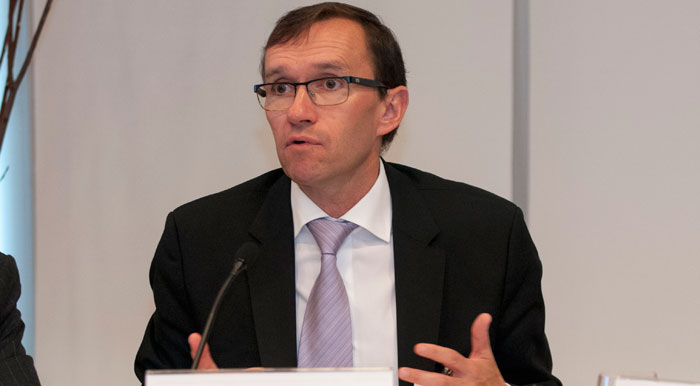 "Expressions of hate speech occur across nations, across cultures—it's not localized to any particular part of the world," said Espen Barth Eide, Minister of Foreign Affairs of Norway, at the sixth annual Trygve Lie symposium on Fundamental Freedoms titled "Hate Speech: Everyone's Responsibility."
"Before we come to the conclusion that it's everybody's responsibility, I suggest we start by recognizing that it's everybody's problem," he said.
The September 26th event hosted by IPI explored how to protect people from the repercussions of hate speech, intolerance and discrimination without contravening the freedom of the press and the fundamental freedoms of opinion and expression of all citizens. The event brought together representatives from civil society, the media, and government.
The potentially catastrophic consequences of hate speech were echoed repeatedly during the discussion. "In divided societies, the dangers—particularly high during election periods—of hate speeches can spark violence and may result, in the worst cases, in genocide," said Armand De Decker, Minister of State of Belgium.
Victor Mukasa, an LGBT activist and human rights defender, described how hate speech is often used to gain positions of power by dividing people and separating insiders from outsiders. Mr. Eide called the use of rhetoric as a means to gain power the "intellectual architecture of hatred."
Mr. Mukasa told of being the first LGBT activist to speak out on live TV and radio in Uganda, and how afterwards politicians and religious leaders incited mobs to harass and even attempt to kill him. "I think it is as simple as whenever we are in such spaces [of influence] to recognize that there are no insiders and outsiders, to recognize that we all belong inside, inside the human race," Mr. Mukasa said.
How to combat hate speech without censoring freedom of expression was one of the key points of the discussion. It seemed the distinction between the former and free speech—especially an offensive manifestation of free speech—can be a blurry line that changes in varying cultural and social contexts. This dilemma, the panelists agreed, sharpens online, where anonymity is possible and accountability fleeting.
Caroline Criado-Perez from the UK-based advocacy group The Women's Room talked about one form of expression that is often misconstrued—humor. "Satire is meant to be the tool of the powerless against the powerful, and far too often humor is used as a defense when the powerful are attacking the powerless," she said. "If the butt of the joke is someone who has no power then it's not funny—it's hate speech."
Part of the problem is the shifting definition of hate speech in different cultures, noted Sarah Wynn-Williams, Head of Global Public Policy at Facebook. "If you see something that in your cultural context is hate speech, how are you going to communicate that to a global company?" she asked. Facebook has a billion users across the globe and a zero tolerance policy, Ms Wynn-Williams pointed out. She said her team is actively seeking ways to curb hate speech while still promoting free expression. "Part of the challenge that we really embrace at Facebook is really having all of those of views represented and not simply having one set of cultural values defining those norms."
"Freedom of speech, including the use of the Internet, is a not a license to promote hatred," said Marty Natalegawa, Minister for Foreign Affairs of Indonesia. He offered several ideas to address the issue with legislation and international cooperation, such as a model national legislation, which could be adjusted to specific contexts by the country concerned; a registry of national steps that governments, civil societies and other stakeholders have taken; an outline of global guidelines; or a simple one-page political declaration on how states will deal with hate speech.
Mr. Natalegawa stressed the importance of concrete, actionable steps. "I believe there is enough wisdom among us to find that balance of freedom of expression and combating hate speech," he said.
The United Nations Special Rapporteur on the Promotion and Protection of the Right to Freedom of Expression and Opinion, Frank La Rue, however, cautioned against state involvement. "State intervention should only occur in the most serious, serious cases," he said. "Otherwise, there are many political leaders around the world that would use the argument of hate speech… to justify forms of censorship."
Mr. La Rue argued against the idea of governments interjecting themselves except when there is a risk of serious harm—and not merely because people will be offended. Curbing offensive speech should be a matter of ethics, not law, he posed. "Ethics is always a voluntary decision of values," he said.
There to represent another key actor in this discussion was Aidan White, Director of the Ethical Journalism Network. "Even in the age of the internet and free expression, traditional media remain the primary sources of information," he said.
One of the main points Mr. White made was that journalism is not an unqualified form of free expression. He said that the core ethics of journalism—accuracy, transparency, accountability, to be as independent as possible, to be aware of potential damage to the community—distinguish it from absolute free expression.
Mr. White stated that despite these values, the media has at times been responsible for proliferating hate speech. "The fact of the matter is politics itself is a generator of hate speech," he said. "Media very often are guilty of hate speech merely by reporting the hatred that exists in politics, merely by reporting the hatred that is expressed between different communities and so on." He added, "Inside journalism there is a debate about how to we understand and learn from our mistakes."
One clear conclusion that the panelists stressed was the need for education—be it education in elementary schools, press rooms or government offices. "The best remedy to hate speech is knowledge," Mr. La Rue said. "We hate what we don't understand, what we see as different."
"I agree with the education and knowledge argument, but it's also the education of attitudes," said Mr. Eide, "because Nazi race theory was developed by professors with a lot of formal knowledge but definitely not the right attitudes."
After the panelists gave last remarks, Mr. Eide closed the discussion with one final thought. "We are leaving much wiser than we came and to the extent we are confused, at least we are confused on a much higher level," he said.
Watch event: