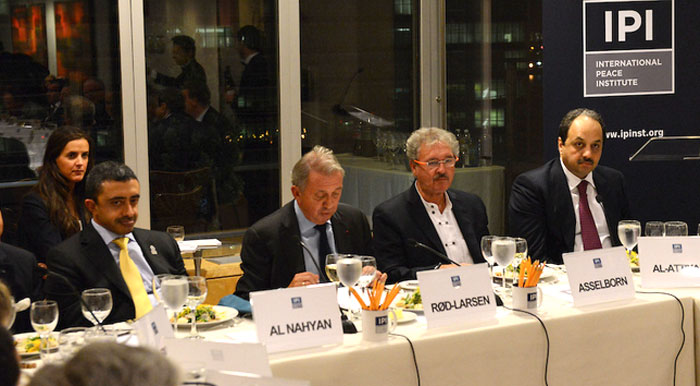 More than 40 foreign ministers, United Nations officials, and heads of humanitarian agencies gathered Sunday night, September 22, 2013, at the International Peace Institute for the Eighth Annual Ministerial Working Dinner on the Middle East.
Discussion at the dinner covered the Middle East peace process and the crisis in Syria.
Prior to the dinner, special guests Bill and Melinda Gates discussed the ongoing efforts of their foundation to eradicate polio and cited the connection between health and security.
Briefing the participants on the peace process were Yasser Abed Rabbo, Secretary-General of the Executive Committee of the Palestinian Liberation Organization; Tzipi Livni, Minister of Justice of Israel; and Martin Indyk, the senior American envoy to the newly resumed peace talks.
Valerie Amos, Undersecretary-General, Humanitarian Affairs and Humanitarian Relief Coordinator of the UN Office for the Coordination of Humanitarian Affairs, led the discussion on the refugee and humanitarian crisis caused by the conflict in Syria.
Humanitarian groups present included the International Red Cross, World Food Programme, UN Relief and Works Agency for Palestine Refugees in the Near East, and High Commission for Refugees.
The dinner was co-hosted by Sheikh Abdullah Bin Zayed Al Nahyan, Foreign Minister of the United Arab Emirates; Jean Asselborn, Deputy Prime Minister and Foreign Minister of the Grand Duchy of Luxembourg; and Terje Rød-Larsen, President of IPI.
Guest List (download pdf of guest list)