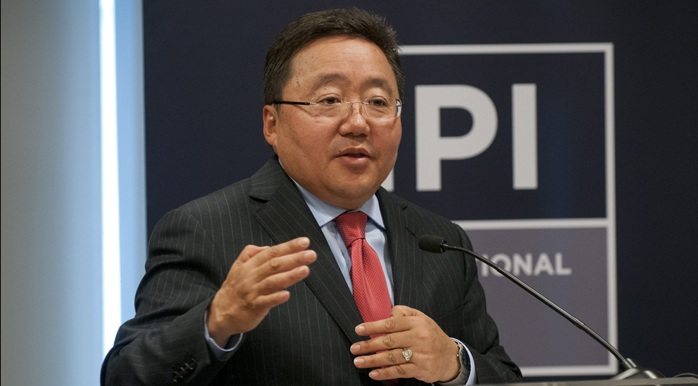 "We never hide our shadow, we give more power to our people, to our media," said Tsakhiagiin Elbegdorj, President of Mongolia. "If our three million people participate, I think we are going to be a big, powerful country."
Mr. Elbegdorj gave a presentation at IPI on September 25th, answering questions about his administration and how he, the of a son of a nomadic herdsmen, became his country's president.
After over seven decades of totalitarian communist rule, Mongolia made a surprisingly peaceful transition to democracy in 1990. "We managed our transition without a shedding single drop of blood, without shattering a single window," said Mr. Elbegdorj.
Since then, Mr. Elbegdorj has steadily helped to create a booming economy and maintained an exemplary record of implementing functional democratic principles in a little-populated, arid country landlocked between Russia and China.
Before 1990, Mongolia's GDP was produced by almost 99% state-owned enterprises, he noted. Now, more than 70% of its GDP is produced by private corporations. "In 2011, we had the fastest growing economy in the world," said the president. "Seventeen and a half percent. And [the] IMF and World Bank predict Mongolia will have a two-digit growth for 20 years."
Part of the reason for that expansion is that Mongolia is one of the ten richest countries in the world in terms of mineral resources. "Because of that, we are one of the hottest nations for investment," he said.
With big foreign investors comes the risk of the resource curse, in which developers swindle the local populations by taking advantage of corrupt governments and lax legislation. To avoid this so-called "paradox of plenty," Mr. Elbegdorj uses some basic democratic principles, namely a free press and cross-reference of information both domestically and diplomatically, and the rule of law. "As president," he said, "one of my priorities is to reform the judicial system, starting from the police to the judicial judge, and courts and prosecutors and all those systems." He made the point that Mongolia was the fastest decreasing country on the international corruption index, dropping from 120 in 2011 to 94 the following year. "We are really committed to become one of the countries in our area not ruled by men, [but] ruled by law."
Mr. Elbegdorj spoke on recent developments for his administrations, including a direct democracy plan that he adopted after the Swiss model. "Five percent of our budget goes directly to people's initiatives. And we will increase that."
In Mr. Elbegdorj's time in office, the number of women parliamentarians has tripled. "When women have more power in your country, the country benefits," he said.
Mongolia has a young, educated population with 97 percent literacy rate. To nurture this trend, Mr. Elbegdorj implemented an education policy in which any man or woman who gets accepted to one of the twenty top-rated universities in the world will get their tuition paid in full by the Mongolian government. "If you have healthy, educated population, your nation is guaranteed for success."
Mr. Elbegdorj noted that 40% of the population is still pursuing a nomadic way of life. "We have roughly three million people, 1.4 million square kilometers of land, more than 40 million cattle and also I think we have more horses than people," he said. "If you like to ride horses, come to Mongolia." As himself the son of a nomadic herdsman, Mr. Elbegdorj expressed a deep concern for the protection of the environment.
He studied journalism in the USSR Army Academy, and later attended the Colorado School of Economics and the John F. Kennedy School of Government at Harvard. Before coming to the West to study, however, at a time when the communist government strictly oversaw all media, Mr. Elbegdorj edited the first independent newspaper, which was called "Democracy."
The president several times expressed the importance of a free press. "In Mongolia, three million people, we have over 60 TV channels, more 200 websites, 300 newspapers and none of them controlled by the government," he said.
The Mongolian leader also told the IPI audience of several diplomatic initiatives to jumpstart democracy in the region, including founding the Asian Network for Democracy along with South Korea, India, Indonesia and others. He said he is working closely with Kazakhstan and Myanmar to facilitate more consensus-based systems of government. "We have nothing to teach but we have something to offer," he said. "We have our experience. We made many mistakes."
When asked if Mongolia, which has relations with both North and South Koreas, could be a go-between for the two states, Mr. Elbegdorj seemed hopeful. His administration has already facilitated two meetings between North Korea and Japan, he said.
A personable and even jovial man, the president proved to be a winning guest with the standing-room only crowd, who several times greeted his statements with sustained applause. Part of the his open-ended optimism on diplomacy can be summarized in a term they use in his foreign policy office—third neighbor. "We have our two neighbors and all other nations are our third neighbor," he explained.
[go href="http://theglobalobservatory.org/interviews/594-locked-between-two-large-neighbors-mongolia-seeks-to-connect-with-the-world.html"]
Watch event: