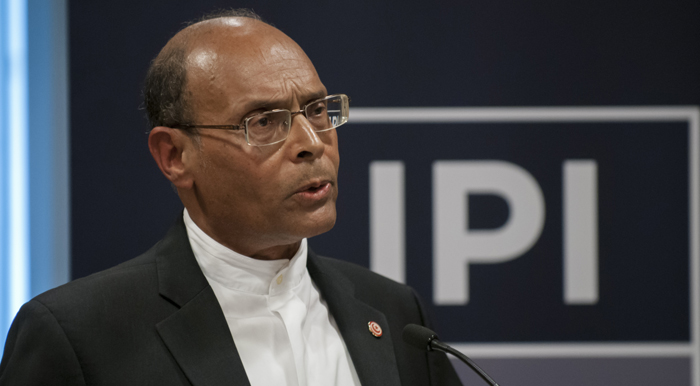 "The [International Criminal Court] is good for Africa," said Dr. Mohamed Marzouki, president of the Tunisian Republic, during a presentation at the International Peace institute. "This is the official position of Tunisia." At the standing-room only IPI event on September 25, Dr. Marzouki reflected on the birth and possible death of the Arab Spring and, along with it, democracy in Africa.
One of the central points of the discussion was the growing criticism of the International Criminal Court (ICC) and the Kenya's motion to withdraw from the Court. The African Union (AU) has pledged its support for Kenya's withdrawal from the court, and says it plans to encourage withdrawals for the other 34 African states now party to the Rome Statute, which established the ICC.
Dr. Marzouki expressed his unease on the matter. "Of course we don't want the ICC to be politicized," he told the IPI crowd. "They should find consensus with the Kenyan leaders, but we have to accept that ICC is extremely important for Africa."
The Tunisian leader agreed that he could help gather a network of states to counter the AU's position in hopes of avoiding a mass abandonment of the ICC. "I've begun to discuss [it] with many African leaders," he said. "We need this court. We need it for the sake of Africa, and we have to stick with it."
President Marzouki trained as a physician and has been a human rights activist and politician his entire career. He talked about Tunisia's proposal to the UN to create an international constitutional court. He stated that he sees these kinds of institutions as safeguards against totalitarianism. "Dictatorship is like disease," he said. "It's a social disease. The International Criminal Court is to cure the disease, but to prevent the disease, we have to have this International Constitutional Court."
Dr. Marzouki has proposed this idea for an international constitutional court only recently, but it's been a dream of his for a long time. The idea came to him in the early 1990s as he sat in prison in solitary confinement for five months. He was arrested when he tried to run for office for the first time because he espoused ideas that were unpopular with the dominant regime of the time.
Dr. Marzouki noted that it was five decades before the ICC moved from an idea to reality and so he might not see his dream of a worldwide constitutional court realized in his lifetime. He expressed hope but for the time being is working with what is available. The president said he is taking every measure to ensure that a totalitarian state is prevented in Tunisia and to create a functional and representative democracy. To guarantee all are represented, he told the crowd that over a thousand people are involved in writing the new Tunisian constitution.
One of the main threads of Dr. Marzouki's presentation, however, was that the transition to democracy is difficult and uncertain. "We are facing a lot of threats," he said before outlining the main challenges ahead. "Everywhere where you have a revolution, you have a counter revolution. This is a real universal law everywhere you go," he said. "The people who lost power, wealth and their privilege, they are not going to sit and just watch the revolution and democracy coming."
Dr. Marzouki spoke to Tunisia's unique circumstances but also noted some interconnectedness across countries of the Arab world. "Because of what happened in Egypt, we are now suffering also a harsh counter-revolution, and we expect this to grow more aggressive every day," he said.
He said his country is comparatively fortunate because it has an educated population, a middle class and a disciplined army that does not interfere with politics. Still there are worries. "I am confident but Tunisia is not an island."
Although the Arab Spring was disastrous for fundamentalist groups, in the president's opinion, the second major threat to democracy is still terrorism. "Al Qaeda and terrorist groups thought that they would be the only alternative to corrupted dictatorship," he said.
Dr. Marzouki reflected on the complexities and hopes for the Arab World's recent embrace of democracy. "Although the underlying causes that led to the Arab revolutions were very similar, the transition processes have taken dissimilar trajectories given the different political, social, and economic factors," he said. "The narrative is not about Arabs with democracy; the narrative is about democracy itself. It's just that democracy is new in the Arab world, facing the same problems that every other place had to face."
The president told the audience it will take two or three decades to know if the Arab Spring succeeded or failed. He noted that the underlining destabilizing force that could derail democracy has more to do with economics than culture or religion. "When you see poverty rising… violence is not very far," he said. "And it could be a danger not only for the Arabs themselves but for the whole region, for Europe and for the west."
President Marzouki gave a sobering account of the complexities in Tunisia and the Arab World. "Everybody knows that Tunisia is the last hope for the Arab Spring," he said. "I don't know if we will succeed but we are trying our best. Please pray for us."
Watch event: