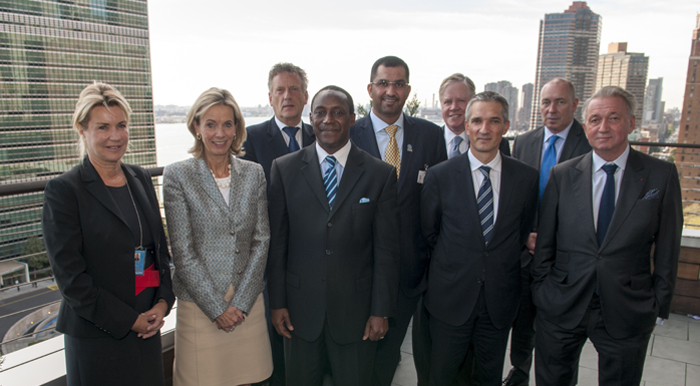 "Being able to provide energy for people is crucial to assure stability in any country," said Dr. Sultan Al Jaber, CEO of Masdar and co-chair of the IPI task force on energy and security, which held its second plenary meeting in New York on September 25th, in the margins of the UN General Assembly.
Participants in the discussion agreed that the question of energy subsidies is highly sensitive in a number of countries, and that inappropriate and abrupt policy changes might lead to instability, and discussed Egypt in that context.
Participants also discussed the Caucasus, the Caspian, and Central Asia, and concurred that, despite the existence of a plethora of energy security frameworks, there is no suitable forum to promote cooperation on energy-related issues in the Caspian.
In Central Asia, water is a major energy-related issue, and attempts to integrate Afghanistan into energy projects involving countries of Central Asia were pointed to as an opportunity to promote regional cooperation, economic development, and stability.
Concerning the Caucasus, it was noted that, while energy is not a source of tensions, it could be used as a means of promoting confidence and cooperation among countries of the region. The next regional expert round table will address challenges in the Arctic region, and will be organized in cooperation with International Gas Union and the Clingendael Institute in The Hague in November.
Task force members also discussed the findings of a Statoil report on the hostage crisis earlier this year in Algeria at the In Amenas gas facility. In order to be able to prevent such attacks, a much closer dialogue and stronger cooperation on intelligence is necessary between the industry and governments.
The task force was chaired by Terje Rød-Larsen, IPI President. Task force members in attendance included Dr. Sultan Al Jaber, CEO Masdar and co-chair of the task force; William Eacho, US Ambassador ret.; Christoph Frei, Secretary-General of the World Energy Council; Geert Greving, Chairman of the Taskforce on Geopolitics for the International Gas Union (IGU); and Kandeh Yumkella, CEO of the UN Sustainable Energy for all Programme (SE4ALL). Grace Reksten Skaugen, Deputy Chair of the Board of Directors of Statoil, participated as an observer.
The next plenary meeting of the task force is planned to take place in the margins of the Renewable Energy Summit in Abu Dhabi in January 2014. Read more about the previous task force meeting and IPI's expert round table on the Caspian.