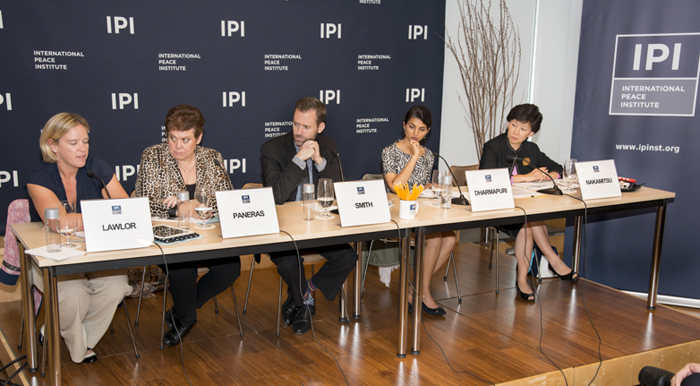 Using the recently published IPI report Not Just a Numbers Game as a springboard for discussion, participants at an IPI panel on October 7, 2013 brought home the key message that women's participation in peacekeeping improves the operational effectiveness of UN missions, and there are many tools available to UN staff and member states to increase this participation.
Panelists included Sahana Dharmapuri, author of Not Just a Numbers Game; Comdt Jayne Lawlor, Gender Advisor for the Irish Defence Forces; Izumi Nakamitsu, Director of the Asia and Middle East Division in the UN Department of Peacekeeping Operations; and Hester Paneras, Police Commissioner for the AU-UN Mission in Darfur.
The panelists considered strategies for better integrating a gender perspective into peacekeeping operations, increasing the number of women involved, and implementing UN policies in this regard.
A number of insights emerged from the meeting:
1. An emerging body of literature shows that women's participation and a gender perspective enhance the effectiveness of peacekeeping operations—for example, through better situational awareness, improved communication with host communities, and increased credibility of the mission in the eyes of the population it is serving. Nonetheless, more research is needed to better understand this impact.
2. Less than a third of civilian staff in UN missions are women, while women make up just 10 percent of UN police and 3 percent of uniformed peacekeepers. Such low participation rates can be explained by a lack of understanding about the contributions that women can make to peacekeeping, social biases that perpetuate gender inequality, and failure to implement UN policies and guidelines in practice.
3. Engaging with troop- and police-contributing countries is crucial to increasing women's participation in peacekeeping, since in many states the recruitment of women in national police and armed forces remains very low and national policies and procedures can serve as barriers to entry for women.
4. In addition, the link between women's participation and improvements to peace operations needs to be better communicated to male and female leaders in this field. Training, awareness, and expertise on gender issues and existing UN policies is needed at every level of a UN mission—strategic, tactical, and operational. This includes and goes beyond the important work of gender advisors and focal points.
5. Achieving greater gender equality in UN peacekeeping is not just about the numbers. It's also about integrating a gender perspective—exploring the roles, status, needs, and priorities of women and men as they relate to the mission's mandate. This requires the involvement of both men and women. And balancing family life and a career in peace operations needs to be part of the conversation.
The event was part of IPI's Women, Peace & Security Series and Providing for Peacekeeping project. It was moderated by Adam C. Smith, IPI Research Fellow and Manager of Peace Operations Program.
Watch event: