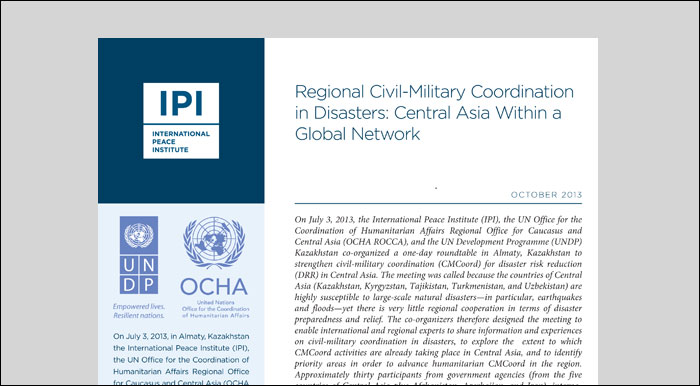 This meeting note summarizes the key themes of a July 3, 2013 meeting on regional civil-military coordination during disasters in Central Asia. The meeting was called because the countries of Central Asia are highly susceptible to large-scale natural disasters—in particular, earthquakes and floods—yet there is very little regional cooperation in terms of disaster preparedness and relief.
The meeting was co-organized by IPI, the UN Office for the Coordination of Humanitarian Affairs Regional Office for Caucasus and Central Asia, and the UN Development Programme. Kazakhstan co-organized a one-day roundtable in Almaty, Kazakhstan to strengthen civil-military coordination (CMCoord) for disaster risk reduction in Central Asia.
The meeting was designed to enable international and regional experts to share information and experiences on civil-military coordination in disasters, to explore the extent to which CMCoord activities are already taking place in Central Asia, and to identify priority areas in order to advance humanitarian CMCoord in the region.
Approximately thirty participants from government agencies (from the five countries of Central Asia plus Afghanistan, Azerbaijan, and Iran), international and nongovernmental organizations, and United Nations agencies took part in the event.