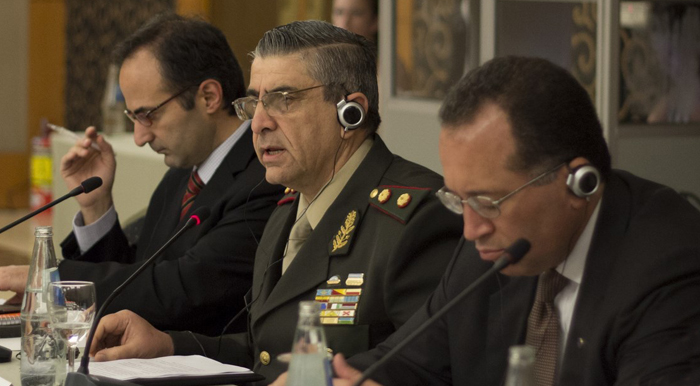 On December 2-3, IPI brought together 24 representatives from eleven Latin American countries with senior officials from the UN Department of Peacekeeping Operations and the Department of Field Support to discuss the current state—as well as the future—of Latin American military and police contributions to UN peacekeeping operations.
The event provided an opportunity to discuss the barriers and motivations of Latin American countries that contribute to UN peacekeeping. The discussions confirmed a clear enthusiasm and desire among Latin American counties to contribute to global peace and security through UN peacekeeping. Participants identified the need for enhanced dialogue with the UN to maximize the effectiveness of their contributions.
A majority of the first day focused on the UN mission in Haiti, which remains a clear priority for the region. A presentation from MINUSTAH leadership explained the mission's transition, which will continue to shift the needs of mission away from military contributions toward more police contributions. Participants expressed a shared understanding of MINUSTAH's consolidation plan and the importance of a conditions-based approach with indicators and timelines. However, clear challenges affecting the degree to which Latin American contributors will be able to reconfigure and adjust their engaging going forward were identified.
The second half of the roundtable covered training, policing, and Secretariat support to contributing countries. Participants stressed the importance of greater communication between the Secretariat and regional peacekeeping training centers, as well as the need for a sustained effort to prepare trainers to bridge quality and quantity gaps in the field. There was also considerable discussion about generating police contributions, either through Formed Police Units or specialized policing teams. Participants identified several obstacles relating to political constraints and language, but also shared lessons on effective specialized contributions through partnerships, which the Secretariat could learn from and apply elsewhere.
The discussion began with current trends in peacekeeping, and participants focused on themes of the evolving peacekeeping landscape, planning and preparedness for timely response, burden-sharing, and the need to gain first-hand knowledge of the field.
The goal of the Being a Peacekeeper series is to increase the quantity and improve the quality of contributions to UN peacekeeping operations. It seeks to facilitate an exchange of information, analysis, and viewpoints among troop- and police-contributing countries of the region and UN senior leadership.
This was the fourth roundtable in the Being A Peacekeeper series, following similar discussion in Europe in 2012, Southeast Asia in 2011, and New York in 2010. The roundtable was sponsored by the Ministry of Defense of France and IPI's core donors, including the government of Norway.
Future meetings, and a final report released by IPI in January next year will provide space for more discussions among Latin American troop- and police-contributing countries and the United Nations in 2014.