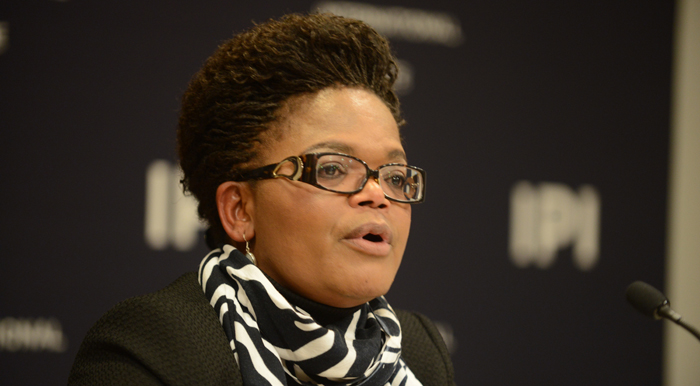 Despite newly promised constitutional protections, there are many challenges facing the human rights community in Zimbabwe, according to Beatrice Mtetwa, a prominent Zimbabwean human rights lawyer. She spoke on advancing the rule of law in Zimbabwe during an African Leaders Series event at the International Peace Institute on December 19th.
Highly contested, Zimbabwe's national elections on July 31st were declared free and fair by the Southern African Development Community (SADC) and the African Union—although several independent observers reported problems with the ballot. The ZANU-PF government then was charged with restoring legitimacy and enacting the new constitution.
Months before, a day after a peaceful referendum passed that constitution on March 16th, Ms. Mtetwa was arrested for alleged obstruction of justice along with three senior officials of the Movement for Democratic Change, the main opposition party to the current administration. The arrest was part of a larger crackdown on human rights defenders and political activists leading up to the presidential polls. Ms. Mtetwa was detained in jail for over a week and acquitted only last month. She told the IPI audience that it was not the first time she has been harassed by the police.
Speaking on the new constitution, the Zimbabwean lawyer listed several hopeful directives outlined in the founding statute—notably commissions to oversee issues related to gender, elections, human rights, the media, national peace and reconciliation, and corruption, among others.
"It's a constitution that looks fantastic on paper, but of course, which constitution doesn't?" Ms. Mtetwa said. She stated that the problems arose in the implementation, and that these initiatives mostly floundered in the absence of specific legislation. "We had this high-sounding body with no operating legislation that enabled it to do anything at all," she added, referring to the human rights commission."
She said it was totally dependent upon the government it was charged with overseeing. "If they required pens, they had to go to the minister of justice," she explained.
Ms. Mtetwa contended that a few powerful, entrenched government officials blocked these commissions outlined in the constitution. For example, she said the prosecutor general selectively prosecuted—or not—according to his own interests, protecting his allies and punishing enemies. In one such case, she said, this national attorney prosecuted Zimbabwe's anti-corruption commissioner who was investigating the same attorney for corruption.
"The culture of impunity in Zimbabwe is what has dragged us down," Ms. Mtetwa said, adding that the independent judiciary in Zimbabwe is independent in name only.
The African Human Rights Commission, SADC, and other continental institutions were unfortunately unable to help, according to Ms. Mtetwa. "Of course we know that those bodies don't have any teeth anyway," she said, and added that the oft-cited idea of "African solutions to African problems" failed in this case.
The counselor also touched on what she sees as Zimbabwe's other big challenges: food security, corruption in natural resources management, and issues related to youth. With an 80 percent unemployment rate in the country, 3 million young Zimbabweans have now fled to South Africa and other areas.
Despite these challenges, Ms. Mtetwa gave no hint she would stop or slow down in her struggle for human rights in Zimbabwe. "The only way we can really try to change things is just litigate and litigate until somebody gets tired and does the right thing," she said. When, during the Q&A, someone asked her how she keeps doing this work after twenty years, she said, "Red Bull."

Listen to the Global Observatory interview with Beatrice Mtetwa>>
Watch event: