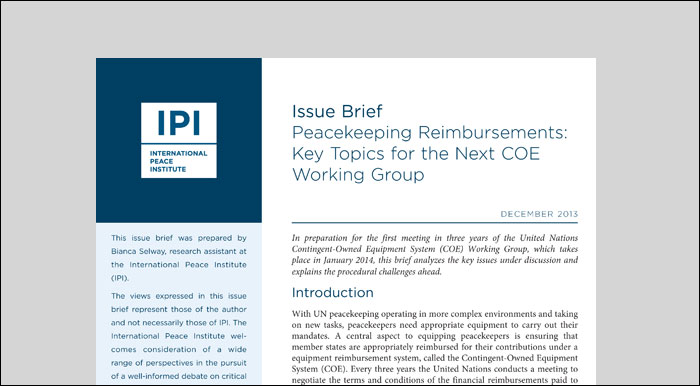 This issue brief analyzes the key issues under discussion as preparation begins for the first meeting in three years of the United Nations Contingent-Owned Equipment System (COE) Working Group, which takes place in January 2014.
With UN peacekeeping operating in more complex environments and taking on new tasks, peacekeepers need appropriate equipment to carry out their mandates. A central aspect to equipping peacekeepers is ensuring that member states are appropriately reimbursed for their contributions under an equipment reimbursement system, called the Contingent-Owned Equipment System (COE).
With 98,311 military and police deployed with their related equipment in seventeen missions around the world, the financial implications of these discussions, which happen every three years, can be significant. In MONUSCO alone, the mission's annual budget for reimbursements to troop-contributing and police-contributing countries for major equipment and self-sustainment in the fiscal years 2008/09, 2009/10, and 2010/11 were $144 million, $160 million, and $180 million, respectively.
While most of the COE Working Group's negotiations focus on very technical aspects of reimbursement for equipment, there are several reoccurring issues, which may have wider implications for UN peacekeeping policy and the UN peacekeeping budget. This issue brief will highlight three of these:
• environmental compliance;
• equipment rotation costs; and
• change in mission factors.
This issue brief also discusses several pressing problems with regard to the Working Group's process that threaten to complicate the negotiations of member states during the upcoming session. With the polarization among member states witnessed over the past few years in the UN General Assembly's Fifth Committee (which has responsibilities for administrative and budgetary matters) and the Special Committee on Peacekeeping Operations, the upcoming COE Working Group negotiations present a valuable opportunity for member states to find common ground.