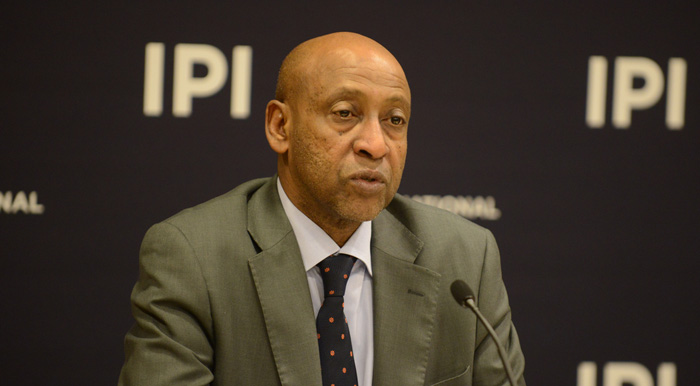 To address the largest humanitarian crisis of the 21st century, the United Nations is conducting a major overhaul of its response to the refugee emergency brought on by the Syrian civil war, said Amin Awad, a senior official of the UN's refugee agency, UNHCR, at an IPI event on February 5th.
"In 2014, we'll see the biggest change ever: a shift in our approach from pure humanitarian action to an action that embraces and incorporates development and cash-based assistance to support the refugees and local communities," said Mr. Awad, UNHCR's Regional Refugee Coordinator for the Syrian Crisis.
In the last year, the number of people fleeing Syria has increased fourfold to 2.4 million registered refugees, with an additional 600,000 to 700,000 who have not yet registered, Mr. Awad explained. He estimated that roughly two thirds of the more than 3 million are women and children.
These refugees have mostly found shelter in neighboring countries: Jordan, Lebanon, Turkey, Iraq, and Egypt. By the end of 2014, the number of refugees in these five nations is estimated to reach over 4 million. Some 85 percent of the Syrians who fled their country are living not in refugee camps but in the host communities, Mr. Awad told a packed IPI audience, adding that the refugees outnumber locals as much as four to one in some areas.
"That puts a lot of strain on these communities, and of course creates tension between the local populations and refugees," he said. "There is competition for resources. There is exhaustion of capacities, for example, when it comes to education, health, water supplies, and in waste management."
He said another issue that raises tension is that tens of thousands of Syrian women, who before recent changes received only standard material provisions from relief agencies, were forced to beg for money to buy medicine and food for children who need specific items. Women are particularly vulnerable in displaced populations, he said.
The cost to host countries in terms of lost investments, trade, and increased unemployment as well as direct funds spent on camps and services equals $7 billion in Lebanon, and over $2 billion each in Jordan and Turkey, Mr. Awad said, citing official government estimates.
"Because of these characteristics—the new dynamics and the demography, and the presence of the refugees now with host communities—we're moving from assistance that's basic material support to cash-based assistance," the UN official said.
Mr. Awad said cash "gives refugees a choice to get on with life as far as their needs, the way they prioritize them," including allowing them to buy food and over the counter medicine. Another crucial advantage to cash-based aid is that it mobilizes refugees, giving them the freedom to seek employment or shelter elsewhere, he added.
Cash assistance also helps the local economies of host communities, Mr. Awad explained. "When we spend hundreds of millions of dollars in cash assistance, it will inject money in the small communities," he said, which can "offset the burden brought about by the refugees on the businesses and small communities in these five countries."
To that end, Mr. Awad stated his organization is working closely with financial institutions, government agencies, and NGOs to coordinate a range of programs that target families, vulnerable groups, rent, and winterization efforts. Additionally, UNHCR is collaborating on projects to build needed infrastructure, including roads and expansion of water and electricity networks. A byproduct of these programs, he said, would be the creation of new jobs.
The shift towards cash-based assistance and integration of development plans reflect an attempt by regional and international actors to adequately address the Syrian refugee crisis, noted Jérémie Labbé, IPI Research Fellow, who moderated the event.
As the war in Syria shows no signs of winding down anytime soon, it's imperative that a long term approach to the refugee crisis continues to adapt to political, economic and cultural dynamics in the five Middle Eastern countries where Syrians have taken refuge, Mr. Awad declared.
He noted that this kind of comprehensive approach would not be possible without continued support from the international community. It's that support in cooperation with host governments that is "not only sustaining the refugees and helping local communities but also [making] sure that borders stay open and people have access to safety," he concluded.

Listen to the Global Observatory interview with Amin Awad>>
Watch event: