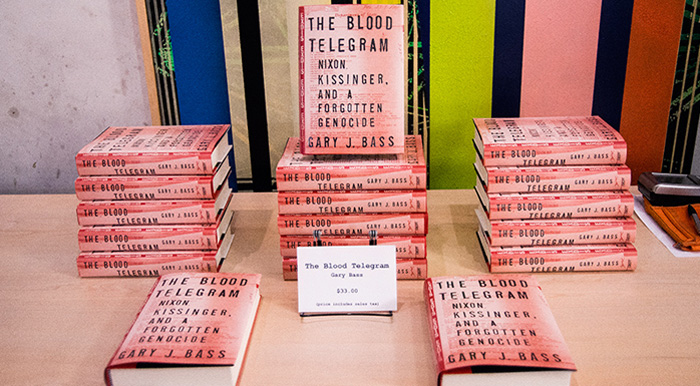 The inability of the United Nations Security Council to halt mass atrocities in East Pakistan some 40 years ago has parallels to current inaction in North Korea, argued Gary Bass, a professor of politics and international affairs at Princeton University, on February 19th. He likened a recent UN report accusing North Korea of crimes against humanity "on a colossal scale" to similar reports in 1971, which detailed a killing campaign that left over 200,000 Bengalis dead.
"When whoever is the equivalent of me 40 years from now writes a book about North Korea, the UN is going to look terrible for this," said Mr. Bass. "This is going to be a lasting historical stain, what's going on in North Korea right now."
Mr. Bass appeared at the International Peace Institute to discuss his book The Blood Telegram: Nixon, Kissinger, and a Forgotten Genocide. The book chronicles atrocities that began March 25, 1971 in Pakistan, then a country of two parts, East and West, separated by 1,000 miles of hostile India. The conflict in East Pakistan eventually led to its independence as the nation of Bangladesh.
Following an election in 1970 that had newly empowered East Pakistan, the military dictatorship in Islamabad launched a campaign of violence against its Bengali citizens in the East—especially targeting Hindus, intellectuals, and elites, explained Mr. Bass.
For almost nine months, with the death toll surging, the Security Council "passes exactly zero resolutions on the killing," the author said. He added that the United Nations' unimpressive record on this event was further compromised by the fact that it opposed India's eventual intervention to stop the killing.
"The UN, faced with mass atrocity, condemns India," he said.
American Collusion
However, The Blood Telegram is not focused on the impotence of the Security Council as much as the complacency and even complicity of the White House, specifically President Nixon and his national security adviser, Henry Kissinger.
At the time, Agha Yahya Khan, the military ruler in Pakistan, was the key communications channel to Mao Zedong for the White House leaders in their secret plan to conduct the dramatic 1972 opening to China.
"The US is supporting the military dictatorship based in Islamabad as it is embarking on this killing campaign," said Mr. Bass. The White House didn't even ask Islamabad to avoid US weaponry in the mass killings, he added. "So you actually have 'US-light' tanks—you have US-made jeeps with US-made machine guns going through the streets of Dhaka," he said.
The author, who culled research from countless hours of the Nixon tapes, said that regarding US military support to Islamabad, Nixon told Kissinger, "'Hell, we've done worse.'"
Archer Blood
Mr. Bass explained that the book's title refers to a series of cables that protested US inaction sent from the consul in Dhaka: Archer Blood. The consul's deputy was a man named Killgore and the junior political officer was one Scott Butcher, he added.
"You can't make this stuff up," he said. "So, you have cables being drafted by Butcher, vetted by Killgore, and signed by Blood."
In response to this dissent, Nixon and Kissinger essentially trashed the consul's career, he said. "Archer Blood ends up teaching at a college and dies in relative obscurity in 2004," he added.
Mr. Bass recognized the heroic efforts of the consul and suggested that more buildings be named after Archer Blood.
The author also praised Sydney Schanberg, who was a New York Times correspondent in East Pakistan in 1971. Mr. Bass said he relied greatly on the reporting and interviews with this Pulitzer Prize-winning reporter, who also attended the event.
In response to a question, Mr. Bass noted that circumstances leading to genocide and US collusion and UN inaction were all embedded in the Cold War. "I think it would have looked profoundly different if it was not; things are much easier after 1989 and the UN system is not as deadlocked as it was at the height of the Cold War," he concluded.
The event was moderated by Warren Hoge, IPI Senior Adviser for External Relations.