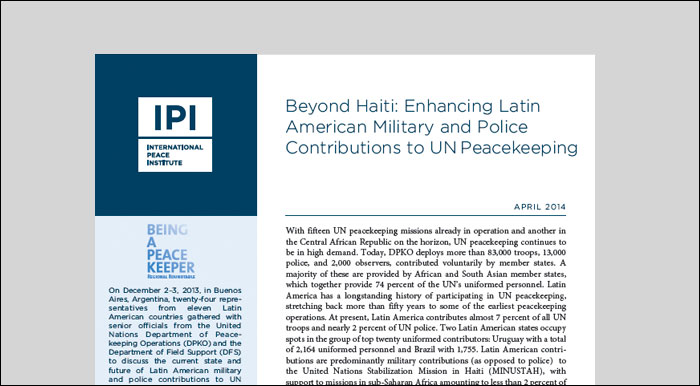 This meeting note summarizes the fourth regional meeting of the Being a Peacekeeper series, which seeks to increase the quantity and improve the quality of contributions to UN peacekeeping operations. The note explores the strategic context of Latin American contributions to peacekeeping, which are predominantly military contributions (as opposed to police) to the UN mission in Haiti. It also examines the challenges that these member states face in contributing peacekeeping personnel, including resource constraints, obstacles to training, and a lack of domestic political support for sending police overseas.
The note makes a number of recommendations to improve collaboration between Latin America and the UN on peacekeeping, including the following:
• DPKO should develop an outreach policy that targets Latin American contributions and build stronger connections with Latin American capitals.
• The UN and Latin American governments should develop stronger arguments for Latin American engagement in Africa—arguments that are interest-based as well as value-based, such as those linked to transnational organized crime.
• Latin American countries should further explore potential partnerships for joint deployments and the contribution of specific enablers, such as specialized police units. A "group of friends" among Latin American troop- and police-contributing countries could also enhance their dialogue with the UN.