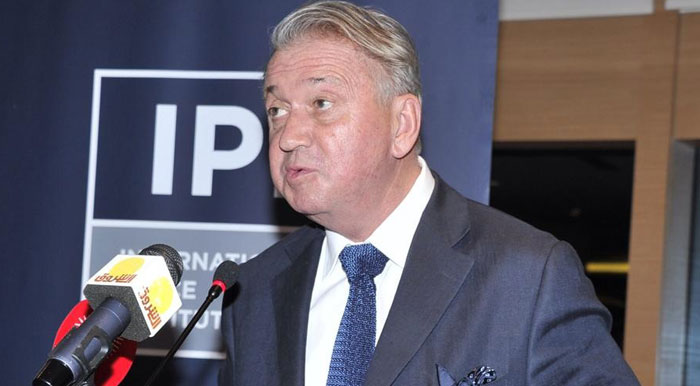 International Peace Institute President Terje Rød-Larsen inaugurated IPI's new Middle East Regional Office with a recognition of the area's critical importance to the world and the rapid political changes underway in the countries of the region, and he asserted that IPI has an "important role" to play there.
"We do not, of course, have solutions to all of the world's problems," he acknowledged in opening the new office, based in Manama, in the Kingdom of Bahrain, on April 5th . "But we can provide a space to think about them, ideas on how to implement them, and partnerships to make them happen."
He reviewed recent events in places such as Libya, Tunisia, Egypt, Syria, Sudan, and Yemen and said, "at a time when there are so many significant changes taking place, and so many shifting variables, it is vital to have information, analysis, and constructive dialogue. This is where IPI has an important role to play."
The opening reception began with a traditional ribbon-cutting ceremony with the Governor of the Capital Governorate, Shaikh Hisham bin Abdulrahman Al Khalifa, and Mr. Rød-Larsen cutting the ribbon together at the entrance of the conference room of the new office, which is located in the Bahrain Financial Harbour on the Manama waterfront.
Among those attending the opening reception were the Minister of State for the Information Affairs Authority, Samira Ibrahim bin Rajab, and Nabeel Al Hamar, His Majesty's Advisor on Information Affairs. The ceremony attracted approximately 100 guests, including other senior governmental officials, ambassadors, and leaders of international organizations, think tanks, and individuals from Bahrain's business community. Along with Mr. Rød-Larsen, IPI was represented by the director of the new Middle East Regional Office, Maha Bahamdoun, and the director of IPI's Vienna Office, Andrea Pfanzelter.
In his remarks, Mr. Rød-Larsen noted that "like no other region of the world, the Middle East has an impact on international peace and security."
"If a conflict were to break out in this region," he said, "it would have an impact on the whole world–for economic, geo-strategic, and religious reasons. Conversely, if there is peace within and between states in the Middle East, the whole world will profit–in terms of stability and development."
"Therefore," he reasoned, "the quest for peace and stability in the Middle East is at the heart of global peace, security, and development." And, he added, "I want to stress in this context that this new IPI office here in Bahrain is a Middle East regional office."
He noted that although IPI has had its main office in New York, located across from United Nations headquarters since its founding in 1970, and opened an office in Vienna, Austria four years ago, the institute has been "following and impacting on events" in the Middle East region for many years. It was consequently "high time for IPI to be present in the Middle East," he said.
He paid tribute to Bahrain as "an open society, with a high degree of gender equality, moderation, and freedom of religion" and credited the country with facing up to local tensions that had produced violence. "When violence erupted here a few years ago," he said, "the government had the foresight and courage to appoint the Bassiouni Independent Commission of Inquiry, which gave an independent and fair assessment of what had gone wrong and how to rectify it."
"The government has openly admitted shortcomings and has energetically worked towards rectifying them through an inclusive dialogue, and a reform process that addresses the aspirations of the Bahraini people," he said.
He said that the phenomenon of popular unrest was one that "deserves further study" and announced that one of the new office's first events will be a seminar with a global perspective on "Protest, Unrest, and State-Society Relations." He explained it would explore the "boundaries between legitimate, peaceful protest and illegitimate action like riots, violence, and terrorism, and what can be done to defuse such situations."
rodlarsen-remarks-bahrainopen.pdf
Related News Coverage
Gulf Daily News, April 6, 2014 (see jpg of article)
TradeArabia, April 6, 2014