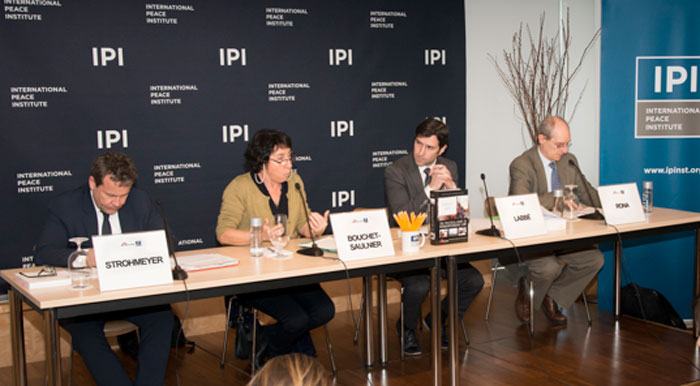 On April 10th, IPI, together with Doctors Without Borders/Médecins Sans Frontières (MSF)–USA, hosted a policy forum that focused on the promotion of greater compliance with international humanitarian law (IHL) for a better protection of civilians and improved effectiveness of humanitarian aid, and attempted to provide some recommendations to improve respect for IHL in todays' most violent conflicts.

Click here to view the event video on YouTube>>
More info:
From Syria to the Central African Republic and South Sudan, today's conflicts remain characterized by appalling violence against civilians and recurrent obstruction to the delivery of humanitarian aid with blatant disregard for international humanitarian law (IHL). Paradoxically, IHL is one of the most widely accepted bodies of international law and has seen dramatic developments over the last decades, not least with the creation of international criminal jurisdictions, such as the International Criminal Court.
On the occasion of the release (in the United States) of the third English edition of the MSF book, The Practical Guide to Humanitarian Law, written by Françoise Bouchet-Saulnier, this policy forum explored this startling paradox. Has humanitarian law become redundant due to the changing nature of warfare and of the actors of violence? Has it become a too loose or complex legal framework to be applied by warring parties?
Moderator:
Jérémie Labbé, Research Fellow for Humanitarian Affairs, International Peace Institute
Speakers:
Françoise Bouchet-Saulnier, Legal Director, Médecins Sans Frontières / Doctors Without Borders
Hansjoerg Strohmeyer, Chief of Policy Development and Studies Branch, UN Office for the Coordination of Humanitarian Affairs
Gabor Rona, International Legal Director, Human Rights First