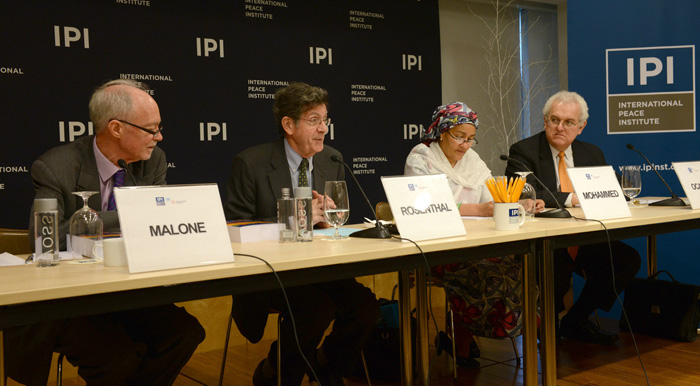 With the timeline for the Millennium Development Goals ticking down, the United Nations says its machinery is cranking at full speed to facilitate and produce the framework for a post-2015 development agenda before the General Assembly session in September. Whether that's true or not, fortunately, the UN is an apt and important "idea incubator" for international development, contended Dr. David Malone, Rector of the United Nations University (UNU), on April 4th. Dr. Malone joined a panel of experts to discuss International Development: Ideas, Experience, and Prospects, a compendium he co-edited. The event was cosponsored by UNU and the International Peace Institute.
By examining how development evolved—how the "feedback loop" between theorists and practitioners shaped (or failed to shape) development—the book sets out to "slice and dice development ideas since the Second World War," he said. "It's interesting to note that many ideas people aren't particularly moved by the failure of the ideas to work in practice, and similarly, many people who work on the ground were unaware that they were actually working to a set of ideas that has developed over a long period of time," he added.
The UN played a fundamental role in broadening the scope of development beyond mere financial gains to encompass social equity and gender equality, said José Antonio Ocampo, a Columbia University professor and former UN Under-Secretary General for Economic and Social Affairs.
In regards to implementation, the UN has employed a "miserablist" approach, said Dr. Malone. "Unless development's a total disaster, it's not clear the UN is required to do anything," he explained. This leads to a lack of recognition of positive changes in the developing world, he added, of which there's been plenty over the last twenty years.
He said that the MDGs and, until recently, the development community in general, focused on metrics—the number of vaccinations, child mortality rates, etc.—but that today people are increasingly worried about quality. "It's fine to have kids in school, but what are they actually learning?" he said. "Is it useful in the world today and so on."
There are many new challenges that development-agenda people have never dealt with before, said Amina Mohammed, Special Advisor of the Secretary-General on Post-2015 Development Planning. For example, of the UN's three pillars—security, human rights and development—the former two are "leaning on the development one," she argued. "We're being asked to hold them up and deal with the challenges, and I'm not sure we're not going to collapse under it," she added.
Middle class expectations and income disparities are growing global issues, noted Dr. Malone. "The importance of addressing inequality is growing in all societies," he said. Selfishness leads people to forget the plight of the poor as soon as they graduate from it, he contended. This lack of solidarity among the new middle class and poor is "extremely striking and potentially very destabilizing for the future," he said.
Climate change is another growing challenge the development community faces, said Ms. Mohammed, creating tensions between middle-income countries and others over who is most responsible to address it. Because these tensions dominate climate change discussions, she added, the development community misses opportunities for much needed dialogue on innovative solutions.
Successful development has always been "internally generated, not externally induced," said Dr. Malone in closing. "And so the idea that development assistance can make very good things happen within societies, I think, is delusional. It's societies themselves that make good things happen."
The event was moderated by Gert Rosenthal, Permanent Representative of Guatemala to the United Nations.
Watch event: