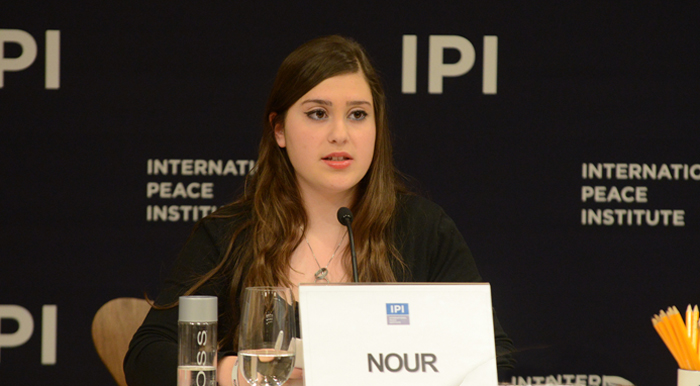 There are some 1.2 billion young people in the world today, and many are counted as part of the 1.5 billion living in war-affected areas, noted Andrea Ó Súilleabháin, Policy Analyst at the International Peace Institute on April 24th. Ms. Ó Súilleabháin quoted the statistic while chairing a panel discussion to launch the book Guiding Principles on Young People's Participation in Peacebuilding.
With as much as 70 percent of populations in many African and the Middle Eastern nations under 35, no lasting peace can be "initiated or achieved" without the participation of these unprecedented concentrations of young people, said Ahmad Alhendawi, UN Secretary-General's Envoy on Youth.
Representing one youthful peacebuilding organization, Nour, a fifteen-year-old board member of the Lebanese Children's Council, provided insight into how young people can be engaged in building peace. Nour and her peers host retreats and events for kids and young adults from various religious and ethnic backgrounds, she explained.
"Sometimes people ask us what we think, but they don't really listen to us," she said of her experience before joining the Lebanese Children's Council.
The organization holds discussions on anti-discrimination and gender parity issues, and recently the Lebanese Children's Council produced a report on challenges for young Syrians in refugee camps and communities outside their war-torn country, she said.
Henk-Jan Brinkman, Chief of the Policy at Planning and Application Branch of UN PBSO, said it's essential to seek out young people and engage them in collaborative environments and enable complementary learning for young peacebuilders. But, he said, we need to be "sensitive to the divides among youth," including victims as well as perpetrators of violence. "We need to learn how to "engage them without incentivizing them," he said.
Five Degrees of Influence
Young people can make both positive and negative contributions to ending conflict, said Ambassador Paul Seger of Switzerland.
Olivier Nduhungirehe, Deputy Permanent Representative of Rwanda to the United Nations, agreed with Mr. Seger. Youth are at times "manipulated for political action and even mass atrocities," he said.
However, the margin between youth engaging in combat versus peace is not too great, argued Mr. Prelis. "The decision points for a young person to commit violence versus to be a peacebuilder is not 180 degrees," he said. "It's really five degrees we are looking at changing or influencing."
Armed actors are "fantastic" at engaging young people, and "providing them the opportunity to express themselves, whether it is for good or bad is immaterial," he said in closing. "We are not that great at it yet. We need to get better at it."
The event was cosponsored by the United Nations Peacebuilding Support Office (PBSO), the Permanent Mission of Rwanda to the UN, the Permanent Mission of Switzerland to the UN, Search for Common Ground, and World Vision International.
Watch event: