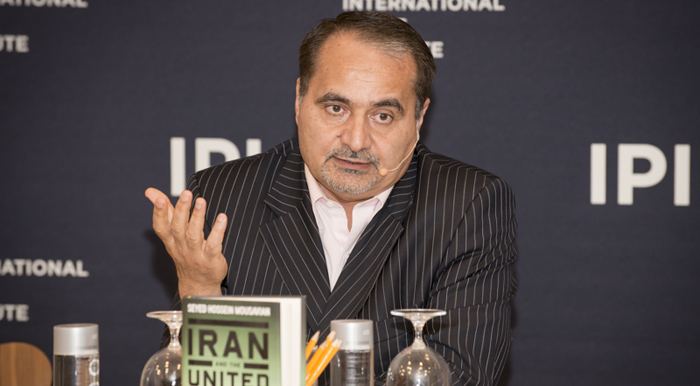 From Iraq to Syria, from energy to counterterrorism, Iran and the United States share many common interests across the Middle East and ought to put aside their decades of hostility, said author and former Iranian diplomat Seyed Hossein Mousavian.
Speaking at an IPI Distinguished Author Series event on June 25th featuring his book Iran and the United States: An Insider's View on the Failed Past and the Road to Peace, Mr. Mousavian said that both countries are to blame for their failure to reach a rapprochement after the 1979 Iranian Revolution, but that today's challenges in the Middle East are a unique opportunity for mending relations.
Mr. Mousavian said that in his book he had tried to explain the Iranian perspective of the relationship, a view that he said has so far been overlooked by the predominantly Western approach to US-Iran relations.
"Tehran and Washington have experienced one of the most—if not the most—dysfunctional relationships" in the international system, he said, "even worse than the relationship between the US and the Soviet Union or the US and Vietnam." Mr. Mousavian said that during these long years of hostility, "all Iranian administrations" and "some US administrations" have attempted to mend ties, "and they all have failed."
Mr. Mousavian, who spent most of his career as an Iranian diplomat, including seven years as the Islamic Republic's Ambassador to Germany from 1990 to 1997 and later as the chief nuclear negotiator between 2003 and 2005, said that Iraq and Syria in particular are the two areas where Tehran and Washington need to cooperate.
"Preventing the collapse of Iraq as a state and as a nation" as well as preventing "the breakout of a sectarian war across the whole region" are two interests that unite Iran and the US, he said. And although the two countries have different interests in Syria, Mr. Mousavian said "both are worried about the crisis there."
Mr. Mousavian's remarks came against the backdrop of intense diplomatic activity ahead of a July 20 deadline to reach a comprehensive agreement between Tehran, Washington, and five major world powers—China, France, Germany, Russia, and the UK—regarding Iran's controversial nuclear program.
Last November, the parties reached an interim agreement that halted Iran's nuclear enrichment in exchange for seven billion dollars in sanction relief. Tehran contends that its program is entirely peaceful in nature and that it does not seek a nuclear weapon; Western powers are looking for reassurances that Iran will not develop a nuclear warhead.
"Of great significance is that the presidents of both countries both want this deal," said Warren Hoge, IPI's Senior Adviser for External Relations, who moderated the conversation. But according to Mr. Mousavian, the nuclear issue has been at the center of the bilateral relationship for too long—over ten years—during which both the Iranian and American leaderships have hoped that they "would discuss other issues after." "It is a wrong policy, but it is a fact," he said.
Mr. Mousavian called this a "piecemeal approach" to rapprochement, one he thinks is largely unsuccessful and, indeed, is the main cause behind the failure to mend ties over the past 35 years. Instead, he said that Iran and the United States need to engage in a comprehensive dialogue, one that includes all their shared interests, as long as they can agree on what they want.
"I believe there is a chance, a serious chance," he said "but both countries have to see an end state from the beginning." He referred to the successful signing of an interim deal last November as a positive example of what it means to agree on an end state.
However, Mr. Mousavian said, ultimately, a better US-Iranian relationship will not be enough to solve the woes of the Middle East.
"We need to engage the other regional powers" in a "regional cooperation system," he said, one that is held together by what he called "the three pillars of the region": Iran, Iraq, and the countries of the Gulf Cooperation Council (GCC).
Mr. Mousavian argued that in 10 or 15 years, the United States will leave the region, leaving a vacuum that will have to be filled quickly by this regional cooperation arrangement. He predicted that energy independence and drained resources following two major wars will lead Washington to refocus its attention elsewhere, leaving Iran and Saudi Arabia as the two major regional rivals.
Despite the historic rivalry between Riyadh and Tehran, Mr. Mousavian expressed optimism at the prospect of the two countries driving regional cooperation.
"Today, I believe that the crisis between Iran and Saudi Arabia can be managed easily," he said, noting that between 1996 and 2005 the two countries shared one of their best relationships in the history of their bilateral ties.
Watch event: