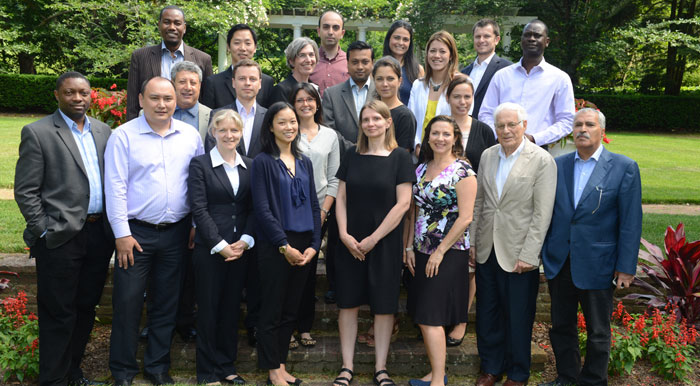 The 2014 Advanced Course in Negotiation and Conflict Resolution, held June 22-25, led an array of international diplomats through three days of in-depth lectures, negotiation and public speaking exercises. This year's course emphasized the practical application of negotiation and consensus-building techniques at the United Nations. In a conversational setting, Ambassador Mirsada Čolaković, the Permanent Representative of Bosnia and Herzegovina to the United Nations, shared a perspective on representing an elected member on the Security Council. Ambassador Abdullah Alsaidi, the former Permanent Representative of Yemen to the United Nations and Jimena Leiva-Roesch from the Permanent Mission of Guatemala to the UN provided insights on multilateral negotiations related to climate change, the Millennium Development Goals and other topics.
The annual course is taught by a team of policy experts from the fields of international security and diplomacy.
Other sessions were led by Professor Seth Freeman, Adjunct Associate Professor of International and Public Affairs at Columbia University's School of International and Public Affairs (SIPA); Stephanie Silverman, Executive Coach, Silverman Speech Consulting, Maureen Quinn, IPI Director of Programs; and IPI Senior Advisers Youssef Mahmoud and John Hirsch.
The course was established in 2012 and offers advanced training in diplomacy, negotiation and conflict resolution to mid-career diplomats. The course blends theory and practice, and places a strong emphasis on developing the practical skills needed in modern diplomacy.