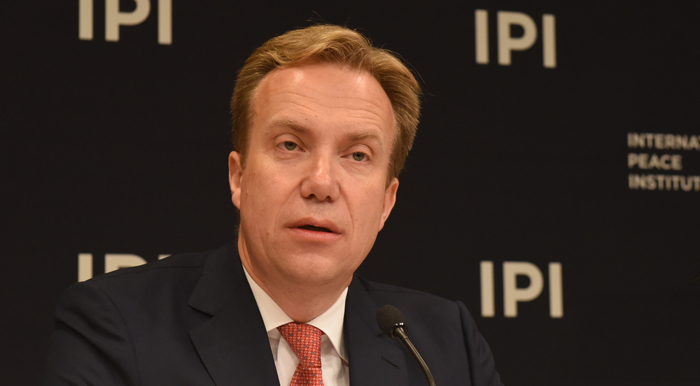 "The prevention of grave human rights violations must be an immediate and urgent priority for the international community," said Norwegian Foreign Minister Børge Brende at IPI on September 26th. "Governments have the primary responsibility to promote and protect human rights."
Mr. Brende spoke at the Seventh Annual Trygve Lie Symposium organized jointly by IPI and the Norwegian Ministry of Foreign Affairs. Its focus this year was on the Human Rights Up Front initiative and how it is creating the changes necessary to put human rights and civilian protection at the forefront of the UN's agenda.
The initiative was launched by Secretary-General Ban Ki-moon in November 2013, and its goal is to equip the UN system with the ability to respond to human rights violations before they turn into mass atrocities. The challenge, the panelists said, lies in the limited amount of resources at the UN's disposal and the occasional lack of support from some member states. The overarching goal, they stressed, is to prevent mass atrocities from taking place in the future.
"Many of us [are] getting tired of saying 'never again'," said UN Deputy Secretary-General Jan Eliasson. "Logically, you can only say that once. Every time you repeat it, it's a confirmation of failure."
Funding, the panelists said, often inhibits new initiatives such as Human Rights Up Front. When funding is limited, they said, the UN is under pressure to limit, or sometimes delay, its response to rights violations.
UNDP Administrator Helen Clark noted how this is what happened in the case of the Central African Republic.
"[There,] the UN system felt under quite a lot of pressure because the peacekeeping budget was at its maximum—there was no more money," she said. "Yet," she added, "what we were seeing on the ground told us that a UN peacekeeping effort was absolutely vital."
Eventually, she acknowledged, the tragic reality of the situation led to a stronger report to the Security Council which culminated in a stronger—albeit late—UN response.
Mr. Brende also emphasized the importance of funding when he noted that for the UN's human rights agenda to succeed, strong financial commitment is a must.
"I call for an increase of the share of the UN's regular budget that is allocated to human rights, and for nation-states to step up our funding of the High Commissioner," he said.
Timing and early response are at the core of the initiative, and the panelists stressed how an effective early response can enable the UN to prevent human rights violations from perpetuating themselves in an endless cycle of violence.
"You can look at this as a timeline, beginning with human rights violations," Mr. Eliasson said. "We need to try to stop this from turning into conflict and mass atrocities [because] if it turns into a protection of civilians issue later on, that's when you see another round of human rights violations."
Ultimately, the panelists said, momentum has to come from member states who both fund and authorize UN missions. The problem, they said, is that this is becoming increasingly difficult.
"With the amount of gore and blood…that we see displayed across our TV screens and YouTube videos, we have become deadened…and tranquilized," said UN High Commissioner for Human Rights Zeid Ra'ad Zeid al-Hussein. "[This] is very dangerous."
"If the threshold now required for a public reaction is fixed at a public decapitation put on YouTube…than you wonder if anything short of that is going to produce a reaction," he said, referring to recent videos by the so-called Islamic State in connection with the beheading of two journalists and an aid worker.
David Miliband, president and CEO of the International Rescue Committee, emphasized the importance of understanding the context the UN operates in. Today, he said, conflicts are much more likely to erupt within states than between them.
"But the norms of the international system are there to protect civilians in cases of war between states, and now they are being applied with great difficulty to war within states," he said. "If we don't understand this context, we don't understand the problem."
From an organizational perspective, Rwandan Foreign Minister Louise Mushikiwabo stressed the need for the UN to bridge the gap between its response and the people it seeks to help.
"It's important that we bring our minds back to the real lives of real people in real situations," she said. "We [need to] approach people with the understanding that we in the international system have a role to play but that…it's not something that can be imported."
UN human rights promotion, she said, is something that has to start on the local level.
The symposium also saw the participation of Kenneth Roth, executive director of Human Rights Watch; Salil Shetty, secretary-general of Amnesty International; and EU Special Representative for Human Rights Stavros Lambrinidis.
IPI Senior Adviser for External Relations Warren Hoge gave welcoming remarks, and the discussion was moderated by Mr. Brende.
Follow the Symposium coverage on Storify>>

Read the Global Observatory interview with David Miliband>>
Watch event: